Accessible Art Fair (ACAF) guided tour
| | |
| --- | --- |
| City | Grimbergen |
| Provincie | Brabant Flamand (VBR) |
| Uit | 12/10/2019 |
| De | 13/10/2019 |
| Uur | 14:00 |
| Categorie | Events |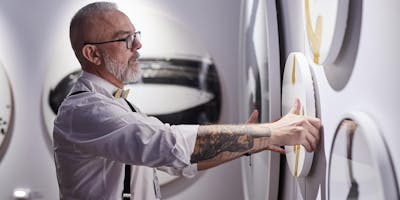 Discover the fair and see all the highlights from the Accessible Art Fair with a guided tour. We invite you to see ACAF in Brussels that brings undiscovered art and the artists behind it into the public eye. The fair creates an intimate platform between artist and collector enabling a unique experience to discover art through the eyes of its creator. Learn more about ACAF. A great opportunity to visit the art fair with a guest art expert in art history and business, listen to artists in conversation about their inspirations, ideas and processes of creation, see the fair in a deeper and more profound way. Our guide Hanna Yakovleva, an art advisor and founder of Private Art Education, will provide a full overview of the fair and present a selection of exciting HIGHLIGHTS.
It is the perfect way to get the most out of your visit. We will start an art tour with placing ACAF on the map of international art fairs and market overview, we will learn together the emerging trends and get acquainted with the up-and-coming artists of the contemporary art world. "I am an art educator and my approach is to rationalize and place art on shelves of contemporary art history, if there is such a thing, for understanding the directions, styles and artists' inspirations and intentions. With love for art, let me take you on a path of fascinating interpretations, where sometimes art speaks for itself."  Price: Early bird €10 plus online a booking fee, or €15 closer to event's date, or cash at the door; do not include admission to the fair.
Saturday 12 October 14:00 and 16:00Sunday 13 October 12:00Duration: 1 hour 15 mins FAQsWhat can I bring into the event?Art fair ticket, because the tour ticket do not include admission to the fair. Can I pay cash 'at the door'?Normally, YES, you can pay cash €15 to the guide, no change and subject to availability of spots.