"Brussels: a connected destination"
| | |
| --- | --- |
| City | Dilbeek |
| Provincie | Brabant Flamand (VBR) |
| Datum | 19/09/2019 |
| Uur | 18:30 |
| Categorie | Events |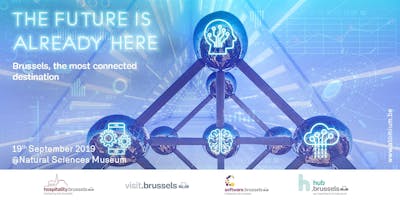 The increase in digital innovations has majorly affected those working in the hospitality industry in Brussels. The future of the industry will certainly be mobile, digitalized  and accessible. But who are these Brussels entrepreneurs who, using their innovative vision, have succeeded in attracting tourists with their personalized services? How have they implemented a successful digital transformation that allows their guests to enjoy unique experiences? hospitality.brussels, software.brussels and visit.brussels have the pleasure of inviting you to the marvellous Natural Sciences Museum on 19 September to experience the latest technological developments. A unique you will have the opportunity to network over a drink and meet the inspiring people who make Brussels an innovative and attractive destination.
PROGRAMME 18:30 Welcome drinks in the Galerie de l'Evolution. 18:45 Welcome speech by Véronique Renard, Manager of Cluster hospitality.brussels & Introduction by Isabelle Grippa, hub.brussels CEO 19:00 The importance of digital technologies in the tourism industry, by a representative of the Brussels Government 19:15 "Artificial Intelligence, Innovation and Tourism" by Mrs Sophie Lacour, Doctor of Information and Communication Sciences, associate researcher, lecturer and consultant. At the head of a firm specialized in planning for the tourism industry, she supports regional authorities and businesses with projects related to digital technology, innovation, robotics and AI. 19:35 Walking dinner and networking, with several experience demonstrations throughout the evening 22:00 The end of the evening