| | |
| --- | --- |
| Ville | Tournai |
| Province | Henegouwen (WHT) |
| Du | 25/06/2020 |
| Au | 28/06/2020 |
| Heures | 18:00 |
| Catégorie | Events |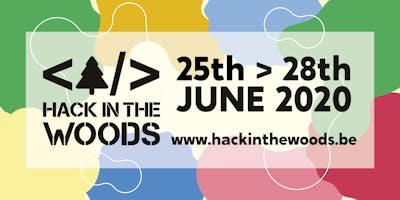 ***YOU HAVE RECEIVED A CHRISTMAS PACK? CONGRATULATIONS, SUBSCRIBING IS ALREADY AVAILABLE*** > "Tickets" > "Promotionnal code" > Write the code that you have received on your key ring. You want to offer a CHRISTMAS PACK to someone? -> http://hackinthewoods.be/shop --------------------------------------------------------------------- STANDARD AND TEAM BUILDING TICKETS SOON AVAILABLE . . . HACK IN THE WOODS 2020 This year, 1,000 developers will meet in the woods to code for a better world.   For this 3rd edition, we promise you new activities, new meeting communities places and many other surprises. Why should you come to this first festival for developers in Europe?  1. You want to code for a better world Red Cross, WWF, Action Damien, Good Planet... and many other well-known NGO's give you challenges to help them in the improvment of our world.  2.
You want to experiment coding in the nature Work tent, tables, sofas, electricity and wifi everywhere... Chose the best spot to code. 3. You want to live a unique mix between festival & hackathon This is not a simple hackathon. This perfect mix with a festival will provide you a unique experience. You'll have the time to have some rest, to drink a beer with other developers from all around the world, assist to a concert, share a free bbq, playing arcades and wood games...  4. You want to expand your network  Enjoy the event to meet developer specialized in other technologies as VR, AR, Data Sciences, APP, Web... Meet great enterprises looking for new talent, as you are. 5. You want to sleep with your colleagues or friends in a tipi in all-inclusive pack You want to share a "VIP experience" with people that you know? We propose "Team Building Pack" : sleep in a tipi (blanket, bed, pillow included) in the quiet zone, have a VIP access for food and drinks, get your personalized t-shirt and many other surprises.
The hackathon is a part of the festival. You are free to buy your ticket and just enjoying the atmosphere. ;)  *** More infos (talks, program, projects and practical) : www.hackinthewoods.be *** Price Participants Standard tickets available in 2020 The ticket price includes: branded t-shirt Hack in the Woods, goody bag, breakfast everyday, water, coffee, network, sanitaries, camping space, activities, parking, concert, bbq on Saturday.  Teambuilding Teambuilding Pack (from 4 to 8 people and more): 1 950 € HTVA/4 people, 487,5 € HTVA /extra person  This pack includes: in addition to the "standard ticket"... luxury tipi in the quiet camping zone, personalized t-shirts, food and drinks everyday, special parking for your team and many other surprises.  The tipi is available until 8 people.
At least 4 people are required. For a custom offer, contact us (
[email protected]
). Possibility to create an event for your enterprise.  Practial information When? From 25th to 28th June 2020.   Where? Domaine de Graux in Béclers (Tournai, Belgium). Nearest station: Tournai. Accomodation? Possibility to stay for free in the campsite, renting a Luxury Tipi or hotel in the area.  Food and drinks? Kitchen free to access, lunch and supper for democratic price. Bar with snacks, beers and soft drinks. Shops in the area. Parking free.  Webshop : http://hackinthewoods.be/shop Information and general conditions on our website www.hackinthewoods.be. Hack in the Woods is organized by Microsoft Innovation Center Belgium with the support of Digital Wallonia, Région Wallonne, Proximus and Microsoft.