| | |
| --- | --- |
| City | Mortsel |
| Provincie | Anvers (VAN) |
| Datum | 12/12/2019 |
| Uur | 19:30 |
| Categorie | Events |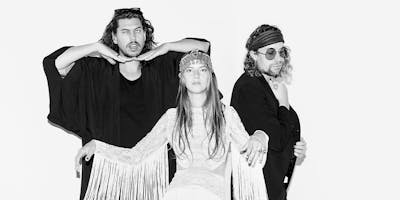 Het Nederlands/Nieuw-Zeelandse trio My Baby werd in 2012 ontdekt door Sly & The Family Stone-bassist Larry Graham en mag je zonder twijfelen een echt live-sensatie noemen. Ze speelden niet voor niets al op Lowlands, Sziget en Glastonbury Festival. Ook Seasick Steve viel als een blok voor hun naar eigen zeggen "delta trance Louisiana dub indie funk" en nam hen mee als vaste support voor zijn 2015 UK Tour. Een My Baby-liveshow is dan ook meer dan een concert. Het is een conceptueel en meeslepend totaalspektakel dat niet enkel muzikaal, maar ook visueel prikkelt. In het najaar van 2018 kwam hun laatste worp Mounaiki – By the bright of night uit. Verwacht je wederom aan psychedelica, swampy blues, hypnotiserende riffs, voodoo, (gospel)soul en funk en vooral... een tijdje volledig in trance weg van deze wereld.
Unieke band. "My Baby slalomt vakkundig tussen aloude genres als blues, country, folk, soul, funk, en gospel. Soms gejaagd, repeterend en hypnotiserend, een andere keer loom, broeierig en soulvol." - 8Weekly