Open Improv Class 2019/2020 - 2nd Free try-out coaching!
| | |
| --- | --- |
| City | Dilbeek |
| Provincie | Brabant Flamand (VBR) |
| Datum | 18/09/2019 |
| Uur | 19:00 |
| Categorie | Events |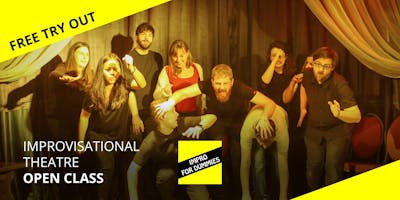 Why not get a perspective on improvisation and start learning how to improvise professionally - on the stage (if you like), in your job and your private life and with confidence? In our brand-new open class, you will not only learn to perform improvisational theatre. You will also get to know the "magic" it is based on - which is being self-confident even in unexpected situations, act in a team build on trust and openness, active listening, creating ideas together ... and a lot more. As a side-effect, you will learn to keep a clear and focused mind in situations where you "HAVE TO improvise" - whether it is in a theatre, your office or your living room. And by the way, you will do all this while meeting nice and interesting people. Courses for beginners: Our brand new open class starts for beginners on September 11th.
The class takes place (almost) every Wednesday evening from 19h00 to 22h00 at Rue Gray 112 in Ixelles. The classes on September (11th, 18th, 25th September) are free try-out sessions. From October on, the full (and paid course) will start and run in three terms until June 2020.  Yes, you will learn to play without a script and in the process will improve your acting, storytelling, and public speaking skills. Important to know: You don't need to be a native speaker to join our courses: if you're able to talk with your boss in English, why should you fear to jump on stage without any script? What is also included in the course package: You will get to know a lot of new and interesting people from Brussels, Europe and all over the world. :-) Finally: You can be sure that we will welcome everybody in our improv community - regardless of nationality, language, improv experience, etc.
This ticket is for the try-out class on 18th September. Please only order a ticket if you are sure you will come. Or in case you ordered and do not manage to come, cancel the ticket in advance or let us know so we can give your spot to someone else, because we usually have a waiting list)-  For any further information, feel free to contact us:
[email protected]
P.S.: For experienced improvisers, we offer our advanced coachings. They will also start in September. If you are interested, please send us an email with a brief description of your improv experience so far or use our contact form on our website and we will let you know further details.