Reinventing NGO networks Workshop - 4th Edition!
| | |
| --- | --- |
| City | Dilbeek |
| Provincie | Brabant Flamand (VBR) |
| Datum | 15/02/2019 |
| Uur | 09:30 |
| Categorie | Events |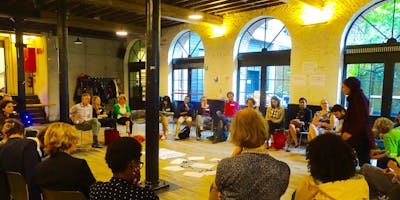 Dear all, The 4th edition of the very popular Reinventing European NGOs (RENGOS) workshops is just around the corner. The upcoming edition will take place at Mundo B on 15 February 2019, and as always is open to all.  This time, our focus will be: From theory to practice – how can we move towards more horizontal organisations? During this workshop, we will depart from the concept of flat organisations and delve into practical, step-by-step approaches that can transform our working environment, including ideas on where to start and what actions you can take as of today. You will have a chance to share and build on successful examples but also explore challenges faced by other organisations that have taken the journey. The day is designed for all those NGO activists and leaders engaging in networks who would like to reflect on new and innovative ways to engage and organise, within our teams, networks, and hierarchies.
This is again an opportunity for us to learn from pioneers as well as from our own brainstorming and experiences. Our planned outcome is for each of us to leave with specific ideas about how we can move our own organisations forward. Are you from a European NGO network, do you engage with NGOs or member-based organisations? Do you have a keen interest in the organisational development of your organisation? Then this day is for you. Format Supported by our external facilitator Ria Baeck, we'll start the day with testimonies from organisations about their journeys towards more horizontal workplaces. Then, we'll use Open Space Methodology to split into breakout sessions. This ensures that all the issues any of us thinks is important will be covered. We make the agenda at the beginning of the day, together.  Indicative schedule                 9.15 - Doors open                9.30 - Welcome & Framing               10.00 - Check in                10.30 - Testimonials                11.30 - Open the Space                12.00 - 13.00 - Lunch break (lunch is provided)                13.00 - Open Space sessions                4.30pm - End of the workshop   Registration and costs RENGO workshops are put together by volunteers, so when registering, we kindly ask participants to contribute to the event costs (e.g.
room hire, catering, and facilitator compensation). We suggest a minimum contribution of 20 EUR; but any donation, no matter the amount, will make a difference. Please also consider a solidarity fee of 40 EUR to help cover participation costs for those who cannot. NB: we only have 40 places, so please make sure to register as soon as possible via events brite. About RENGOS Reinventing European NGOs (RENGOS) is an informal group of Brussels based professionals working for or with European NGO networks. We are keen to explore organisational challenges we believe we all face relating to governance, management and organisational development of our European NGO networks. Inspired by Frederic Laloux's book, Reinventing Organisations, but not defined solely by it, we are organising one-day workshops to reflect on how we can evolve towards more inclusive, horizontal and efficient organisational models.
Our context is very specific - based in Brussels with member organisations across Europe (and the world). We are all unique, but we share a common set of challenges that we would like to explore together. Three previous editions were organised in 2017 and 2018 - Read more here. Feel free to forward to your colleagues and other organisations/NGOs who might also be interested in joining us for the day. Looking forward to seeing you there. On behalf of the organising team