Certified Scrum at Scale Practitioner by Carsten Ruseng Jakobsen at MBK in Copenhagen
| | |
| --- | --- |
| By | Copenhagen |
| Province | Hovedstaden (01) |
| Fra | 22/10/2019 |
| Den | 23/10/2019 |
| Timer | 21:00 |
| Kategori | Events |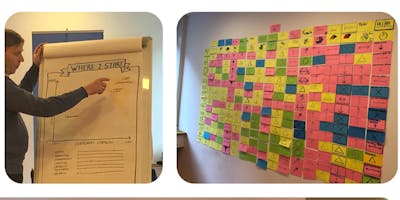 Certified Scrum at Scale Practitioner In this 2-day
[email protected]
® course, you will gain knowledge and skills to transform your entire organisation into an Agile enterprise. Learn how to apply Scrum development and product management skills across your organization to achieve business agility. What Will You Learn? In this highly interactive course, you will be taught to: Understand how
[email protected]
defines the minimal components needed for business agility Assess how well your own organization implement these components using a scaling map Create and prioritise a transformation Backlog to overcome impediments to scale the entire organization Measure and improve key Scrum metrics at an Enterprise level The responsibilities of enterprise leadership to enable business agility How to leverage current Scrum implementation to achieve business agility Understand when Scrum at the team level is ready to be scaled to achieve business agility There will also be multiple opportunities for participant-driven Q&A sessions to explore
[email protected]
in your context.
You will examine real-world case studies of the implementation of
[email protected]
and I will also include my personal experiences from applying Scrum at Scale at clients. The training is mostly based on use of flipcharts and exercises, and only a minimum of slides are presented. You can see some examples by clicking here. See presentation from
[email protected]
meetup at Simcorp on June 3rd, where Bent Myllerup and I presented a leadership and management context for
[email protected]
:  Scrum @ Scale Guide  Jeff Sutherland introduces the
[email protected]
framework as described in the open source
[email protected]
Guide here: https://www.scrumatscale.com/scrum-at-scale-guide-read-online/ Jeff Sutherland explains what Scrum at Scale is in 2 min What Will You Receive? Two days of high-quality interactive instruction from Carsten Ruseng Jakobsen and Peter Fischbach, who both have been trained and certified by the co-creator of Scrum and creator of 
[email protected]
, Dr Jeff Sutherland.
A detailed workbook. Awesome catering and lovely learning environment at MBK  The certification includes a two-year membership at
[email protected]
, where additional material and information are available. Upon completion of this course and after passing the official
[email protected]
exam, you will receive a Certified
[email protected]
®Practitioner certificate. You can claim up to 16 Scrum Alliance Scrum Education Units® (SEU's) and/or up to 16 PMI PDUs.   Who Should Attend? Executives and managers Product Owners Project Managers Scrum Masters Agile Coaches Others interested in scaling Scrum across the organization at all levels Even if you are already on a transformation journey, the
[email protected]
framework will, due it's non-prescriptive nature, be a very helpful add-on.
[email protected]
helps asking the organization the right questions, and provides guidance through twelve components with defined inputs, purposes and outputs. The specific implementation of the components will depend on your specific organization and context. Trainer:  Carsten Ruseng Jakobsen, www.growbeyond.dk  Peter Fischbach, Common Sense Team & Scrum Events  Carsten and Peter are both Certified Scrum at Scale Trainers, CSaST. Duration: 2 days from 9.00 am to 5 pm