Investment Camp Aarhus 2019
| | |
| --- | --- |
| By | Aarhus |
| Province | Midtjylland (04) |
| Dato | 04/10/2019 |
| Timer | 14:00 |
| Kategori | Events |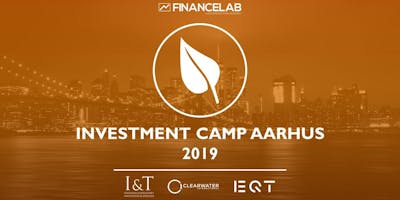 Welcome to Investment Camp Aarhus 2019. This year, our partners will shed light on owner structures of companies. They will focus on the transition from private ownership to private equity ownership and towards an IPO.I - CLEARWATER INTERNATIONAL: "YOUR TRUSTED ADVISOR"Clearwater International is a leading mid-market global corporate finance advisor with extensive experience from more than 1,500 transactions. Clearwater International is partner-led, independent, entrepreneurial and builds on core values of being personable, adaptable and committed.Clearwater International will share valuable insights about advising clients in mergers & acquisitions (M&A) processes, how to become a corporate finance advisor and the experience of working at Clearwater InternationalII - EQT: "A PASSION FOR DEVELOPING"EQT is the largest private equity fund in the Nordics and one of the largest globally.
EQT invests in good companies across the world with a mission to help them develop into great and sustainable companies. By providing access to ownership skills and operational expertise, EQT helps acquired companies grow and prosper.EQT will give a presentation of how they work to identify attractive companies and how they create value in their portfolio companies.III - I&T ASSET MANAGEMENT: "CREATING VALUE FOR YOU"I&T Asset Management is one of the leading independent asset management companies and investment advisors in Denmark. I&T subscribes to the belief that active management and thorough knowledge of the portfolio companies enable portfolio managers to deliver the best results for their clients.I&T Asset Management will share insights into how they assess the value and potential growth of an IPO case.
Additionally, I&T will present their views on finances in private versus publicly owned enterprises.