STARTUP MENTORS EVENT: Batch 2 / Odense
| | |
| --- | --- |
| By | Odense |
| Province | Syddanmark (03) |
| Dato | 05/11/2019 |
| Timer | 17:00 |
| Kategori | Events |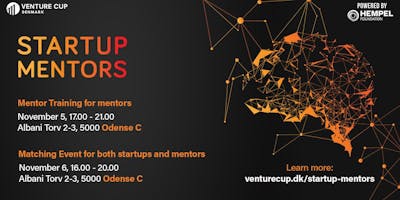 Venture Cup Denmark has a mentor program called Startup Mentors. Startup Mentors host six events annually, where the entire network of startups and mentors are invited. The first three events of spring 2019 have successfully been launched. Now it is time to repeat and build on those events for fall 2019, so this sixth event will yet again takes place in Odense in collaboration with one of our partners, Danske Bank Growth, at their headquarters at Albani Torv 2-3, Odense. What are the events about? Day 1: We want to invite our mentors and potential new mentors to join our Mentor Training workshop. The purpose of the Mentor Training workshop is to provide our mentors with good understanding and knowledge on how to be a mentor.  Day 2: The purpose of the Matching Event is to connect promising founders and their university startups from the Danish universities with business professionals from various industries.
There can be anyone from a business developer, a fundraiser, a strategist, a branding expert to a supply chain manager. What is the goal of the event? The end goal is to support the university founders grow their startup business in collaboration with a specific mentor for 6 months, working on specific challenges that both mentor and mentee identify together. The program and the events are for free to all university students as well as for mentors. --- (DAY 1) Mentor Training November 5 at Danske Bank, Albani Torv 2-3, 5000 Odense COfficial program starts at 17:00 - Ends at 21:00 Program: 15.00 - 17.00: Graduation of Odense Batch 1 (diplomas, giftcards for partners, knowledge exchange etc.) 17.00 - 21.00: Mentors only Training (workshop by KMP+ House of Mentoring) (DAY 2) Matching Event  November 6 at Danske Bank, Albani Torv 2-3, 5000 Odense COfficial program starts at 16:00 - Ends at 20:00  Program: 16.00 - 16.30: Startup Mentors Presentation 16.30 - 17.00: Danske Bank Presentation + Speaker 17.00 - 18.00: Startups pitches 18.00 - 18.30: Mentors pitches 18.30 - 20.00: Networking + Matchmaking --- If you already are a Venture Cup mentor or a future mentor to be, please join us for both events, November 5 and November 6, 2019.
We will give you some tools on how to be a good mentor followed by a matching session with some interesting startups from the Danish universities. Also, you will get access to a mentor guide book and get a graduation diploma when the 6-month mentorship ends May 2020. NEW: Startups, who complete the 6-month program, get not only a mentor but also get access to 10 exclusive deals with our partners and a chance to win 50.000 DKK in grants. NO SHOW: Please note that in case of no-show to each event, we will charge you a fee of 300 DKK.