Wolt Partner Intro - >Odense<
| | |
| --- | --- |
| By | Odense |
| Province | Syddanmark (03) |
| Dato | 07/01/2020 |
| Timer | 16:00 |
| Kategori | Events |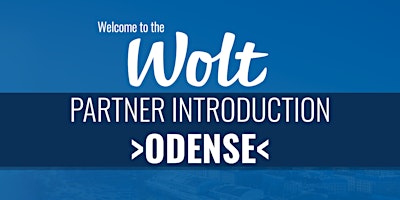 IMPORTANT INFO (For danish description see below)  During the Wolt Courier Partner Introduction you will receive training on how to use the Wolt partner app and how to provide a great customer experience. [Please be aware that the Wolt Partner Introductions is reserved to applicants that have already completed the Wolt Courier Partner Test. You CANNOT attend the intro without an Eventbrite reservation. Please apply here: https://wolt.com/heroes ] The introduction will last approx. 90 - 120 minutes and will be conducted in English if we have an English speaking audience.  Agenda of the Introduction: DELIVERING FOOD using the Wolt Partner App How to provide EXTRAORDINARY GOOD service  How to REACT when things GO WRONG? HOW and WHEN you get paid  HOW TO GET STARTED delivering with Wolt Please show up on time and follow the "Wolt" signs once you reach the address.
Remember to bring your smartphone. For more info, please write: 
[email protected]
Please cancel your registration on Eventbrite if you can not make it to the introduction. *You have to be 18 years or older to become a Courier Partner at Wolt* --------------------- DANSK VERSION NEDENFOR --------------------- VIGTIG INFORMATION Under Wolt Kurer Partner Introduktionen vil du modtage den nøvendige træning for at gøre dig klar til at tjene penge ved levere lækker mad med Wolt Partner appen, inklusiv et kursus i hvordan du leverer den absolut bedste service.  [Hver opmærksom på at Wolt Partner Introduktioner er 100% forbeholdt folk der har gennemført Wolt Partner Testen og booket billet til eventet igennem Eventbnrite. Du kan ikke deltage til eventet uden en billet.
Har du endnu ikke bestået Partner Testen kan du tage den her: https://wolt.com/heroes] Introduktionen varer mellem 90-120 minutter og vil blive afholdt på engelsk hvis vi har engelsktalende til stede under introen.  Agendaen for Partner Introen: DELIVERING FOOD using the Wolt Partner App How to provide EXTRAORDINARY GOOD service  How to REACT when things GO WRONG? HOW and WHEN you get paid  HOW TO GET STARTED delivering with Wolt Hver venlig at kom til tiden og følg eventuelle "Wolt" skilte når du ankommer ved adressen. Husk at medbringe din smartphone. For mere info, kan du skrive til: 
[email protected]
HUSK at cancellere din billet til eventet hvis du ikke kan deltage alligevel. Du gør dette via linket du modtager fra Eventbrite når du bestiller billetten.*Du skal være fyldt 18år for at kunne starte et samarbejde med Wolt som Kurer Partner*