| | |
| --- | --- |
| By | Copenhagen |
| Province | Hovedstaden (01) |
| Dato | 25/04/2019 |
| Timer | 09:00 |
| Kategori | Events |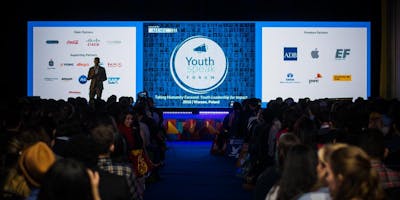 Youthspeak Forum is a one-day event for 150 young social innovators in Denmark, country stakeholders such as business leaders from companies, education and politics gathered for a dialogue on challenges and sustainable measures of solutions to take by the young people and the danish society as a whole. The event will inspire and engage participants through workshops by companies in Denmark supporting and implementing sustainable development projects, key note talk on SDG 4,7 and 8, opportunity fair, case competition with an opportunity for winners to go on a Global Voluntering Exchange through AIESEC, and panel discussion on artificial intelligence. Common to the event is that it generates dialogue across generations and develops innovative solutions that create a difference for young people between 18 and 30 years in Scandanavia and especifically in the Danish society.  Companies and Organization to take part in this forum include; -United Nations -Maersk Growth -SustainBase -Develop Diverse -Embassy of Germany .....and more Click here for more information.