| | |
| --- | --- |
| Kaupunki | Espoo |
| Maakunta | Uusimaa (18) |
| Alkaen | 20/11/2019 |
| | 22/11/2019 |
| Tunnit | 18:00 |
| Luokka | Events |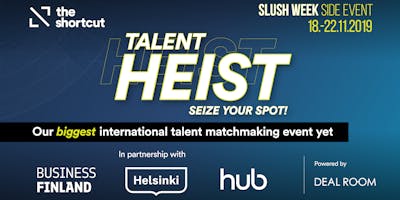 Are you waiting to unleash your skills at a high-growth startup? Are you tired of the same old stuffy networking events? Would you like to mingle with a talented community of internationals and locals while making an impact on the future of the tech industry? Talent Heist is not just a matchmaking event, it's an immersive experience into the heart of the startup world organized during Slush, the largest tech conference in Europe. In partnership with Business Finland, The Hub, and City of Helsinki, Talent Heist is a 3-day journey that gives you opportunities to showcase your abilities, build relationships with the company you want to work with, and experience the vibrant atmosphere of Helsinki's startup community. Who: International and local talents looking to jumpstart their careers in tech, and anyone else with a desire to learn more about startups and become part of this thriving ecosystem.
What: Talent Heist Hideouts and our Matchmaking Lounge offer opportunities to socialize and engage with startups and attendees in relaxed locations. Matchmaking activities include speed dating, interactive networking, and 1-on-1 conversations with recruiters, arranged through our networking platform Dealroom.  Using Dealroom, you'll be able to start building your professional profile before the event to stand out and make a first impression that lasts. You'll also use Dealroom to reach out directly to companies and request an interview. Instructions to set up Dealroom profiles will be released following registration. When: 20 November 18:00 - 21:00 Talent Heist Hideouts 21-22 November 9:00 - 18:00 Matchmaking Lounge Where: Talent Heist Hideouts will take place around several bar and restaurant locations in the Kalevankatu area of Helsinki's beautiful city center.
Specific locations to be announced soon. Matchmaking Lounge will be held at the Holiday Inn, located conveniently next to Slush.