2nd Guitar Concerto Competition & Festival - Dances of the Bandit Cowboy – Duo Melis
| | |
| --- | --- |
| City | Groningen |
| Provincie | Groningen (GR) |
| Datum | 13/02/2020 |
| Uur | 19:00 |
| Categorie | Events |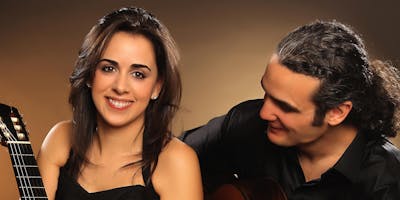 We zijn ongelooflijk trots om Duo Melis bij een zeer bijzondere gelegenheid op ons podium te presenteren: dit jaar vieren ze hun 20everjaardag als duo. We feliciteren ze van harte en wensen hen nog vele succesvolle jaren. Om dit jaar nog meer bijzonder te maken dan ieder ander, brengen ze een programma met hun all-time favorieten: L'Hoyer, Granados, Piazolla, en hun veel geroemde bewerking van Ginastera's Danzas Argentinas staan allemaal op het programma. Deze meester-gitaristen brengen je in extase met Danza del viejo boyero (Dans van de oude herder), verleiden je in de wereld van delicate nuance met Danza de la moza donosa (Dans van de schone maagd) en brengen je op het puntje van je stoel met de stoutmoedige ritmes en spannende samenklanken van Danza de la gaucho matrero (Dans van de bandieten cowboy).
Hun muzikale expressie is verfijnd en leidt tot ongelooflijkehoogtepunten: we raden je aan op je hoede te zijn als je hen hoort, anders stelen ze je hart en gaan ermee vandoor. Maar geen zorgen, we beloven dat we hen bij je terugbrengen en nodigen je van harte uit een van de beste gitaar-duo's aller tijden te komen beluisteren. We are incredibly proud to present Duo Melis on a very special occasion: this year they will be celebrating their 20th anniversary of being a duo. We congratulate them from the depths of our hearts and wish them many more successful years. To make this year more special than any other, they are putting up a program of their all-time favourites: L'Hoyer, Granados, Piazzolla and their famous transcription of Ginastera's Danzas Argentinas are all on program.
These guitar masters will excite you in Danza del viejo boyero (Dance of the Old Herdsman), charm you into the world of delicate nuances in Danza de la moza donosa (Dance of the Beautiful Maiden) and keep you at the very edge of your chair with the bold rhythms and edgy harmonies of Danza del gaucho matrero (Dance of the Bandit Cowboy). Their musical expression is refined and makes for incredible culminations: we strongly recommend you to be careful when listening to them, otherwise they might just steal your heart and run away. But don't worry, we promise to bring them back to you soon and we cordially invite you to hear one of the world's best guitar duos ofall times.