| | |
| --- | --- |
| City | Voerendaal |
| | Klimmen |
| Provincie | Limburg (LI) |
| Uit | 14/01/2020 |
| De | 15/01/2020 |
| Uur | 09:00 |
| Categorie | Events |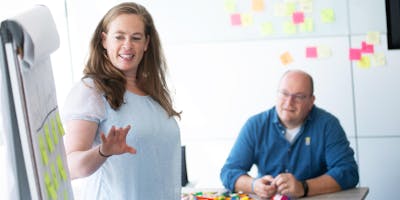 Course Description The two-day Agile Foundations course goes beyond a primer of Agile values, principles and practices. Through experiential learning, participants get hands-on with the application of Agile practices and are prepared to start leveraging new skills on the job. Duration training  2 days. Suggested sizing  15 - 30 participants. Price  € 995, - (excl. VAT) per participant. Early bird discount of € 100, - per participant, when booking is done at least one month in advance. Target audience  Individuals new to Agile who are preparing to use Agile for the first time. Agile Team Members (Developers, Testers, Analysts). Scrum masters. Product Owners Managers of those on Agile Teams. Primary Stakeholders of Agile Teams (Designers, Architects, Project Managers) Course outline  In this training, the following topics are covered: Traditional development approaches vs.
agile. Agile principles. Themes: incremental, iterative, collaboration, transparency. Agile frameworks and processes and scrum. Scrum roles: product owner, scrum master, development team, scrum team. Scrum process: agile delivery cycle and scrum ceremonies. Tracking progress & forecasting. The vision: purpose of vision, overview of simulation vision, elevator pitch. User stories, the three C's, personas. Definition of done. Estimation: traditional vs. relative estimation, story points, planning poker, affinity estimation. What participants get? Training at a beautiful external venue in Utrecht Lunch, coffee, tea, soft drinks and refreshments throughout the day Attendee workbook. All training materials, including the famous Accenture Poker Card Set.
Learning objectives: By the end of the course successful learners will be able to:  Discuss Agile values and principles as they relate to their role, team and organization. Describe that Agile is more than a collection of processes. List popular Agile processes and frameworks. Give examples of Agile roles, how they interact, and what it takes to create a strong team dynamic. Summarize the Scrum framework and collection of ceremonies. Explain why shared understanding of "Product Vision" is key for success. Develop user stories that describe "Requirements" in context of the user's needs. Apply more than one method for estimating user stories. Articulate the purpose of "Done" and create a "Definition of Done". Track and forecast the progress of an Agile team using multiple methods Employ techniques focused on continuous improvement Why Accenture Academy? We are Golden Partner of Scaled Agile and have a global network of certified SAFe trainers, coaches and implementation experts.
Get Hands-On with our Agile Experts. Learn by doing. Our training allow you to get hands-on with seasoned Agile practitioners, who have more than a theoretical understanding of building Agile enterprises but know what works and what doesn't.