| | |
| --- | --- |
| City | Zaanstad |
| | Zaandam |
| Provincie | Noord-Holland (NH) |
| Datum | 14/06/2019 |
| Uur | 20:00 |
| Categorie | Events |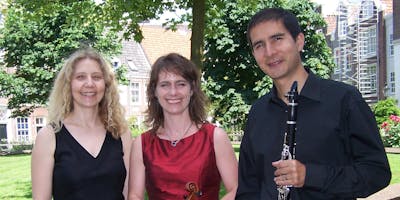 Enthousiasme, de liefde voor muziek en vriendschap hebben Monika, Olja en Emirhan bij elkaar gebracht. Monika en Olja spelen sinds 2007 samen. In elkaar vonden zij dezelfde fijngevoeligheid ten opzichte van de muziek en de wens om deze samen te delen en te uiten. Monika en Emirhan speelden al eerder diverse keren enthousiast met elkaar samen. Deze ontmoetingen leidden vervolgens in 2010 tot de vorming van het huidige Astra trio met viool, klarinet en piano/orgel. In de tijd van zijn bestaan gaf het Astra trio al een aantal succesvolle concerten.Programma 'COLOROSO' Pierre Max Dubois  (1930-1995) Suite pour Violin, Clarinette et Piano (1968)Chanson pour NathalieSerenade Charles E. Ives (1874-1954)Largo for clarinet, violin and piano (1901)Aram Khachaturian (1903-1978)    Trio for clarinet, violin and piano (1957)Andante con dolore, molt'espresioneAllegroModerato   --PAUZE--Darius Milhaud (1892-1974)  Suite pour Violon, Clarinette en Piano   (1937)OuvertureDivertissementJeuIntroduction et Final Max Bruch (1838-1920) Trio Op.
83 (1908)No.1 Andante      No.6 Andante molto, NachtgesangNo.7 Allegro vivace, ma non troppo Alexander Arutiunian (1920) Suite for Violin, Clarinet and Piano (1992)IntroductionScherzoDialogFinal