| | |
| --- | --- |
| City | Nijmegen |
| Provincie | Gelderland (GE) |
| Datum | 28/11/2019 |
| Uur | 09:00 |
| Categorie | Events |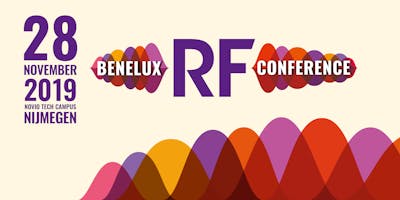 The Benelux RF Conference is organized by Techwatch in close collaboration with Novio Tech Campus and the city of Nijmegen. The target audience consists of Belgian and Dutch high tech professionals and companies involved in high-end RF development and RF applications. WHO Engineers, team leaders, technical managers, product developers, and innovation managers ENTRANCE TICKET BENELUX RF CONFERENCE 28 NOVEMBER An entrance ticket includes admission to the presentations, lunch, drinks, and dinner at the end of the day. CONFERENCE PROGRAM The Benelux RF Conference will kick off with the following keynotes: Flying to the moon for radio astronomy at low frequenciesMark Bentum (Astron/TU Eindhoven) & Marc Klein Wolt (RU Nijmegen) 5G RFIC design challenges and opportunitiesBernard Tenbroek (Mediatek) The rest of the day features sessions on 5G, Automotive, Packaging, Entrepreneurship, Advanced Technologies and IoT.
For an overview: beneluxrf.com/program