| | |
| --- | --- |
| City | Amersfoort |
| Provincie | Utrecht (UT) |
| Uit | 26/09/2019 |
| De | 28/09/2019 |
| Uur | 17:00 |
| Categorie | Events |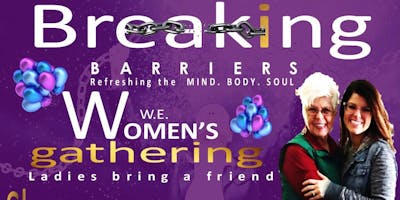 BREAKING BARRIERS Western European Ladies committee are organising a conference on Thursday 26thSeptember until Saturday 28thSeptember. The speakers are Kathy Watson-Swift and Krystal Bono. Registration is €100 per person this will include 2 lunches and 2 evening meals. Kathy, our Western European Women's leader has a vision for the conference and wants us to all bring a friend who does not know the Lord.  It will be different, a safe place for those not accustomed to church, yet spirit based and filled with his very presence. She wants the times we spend together to be special that our outside  Guests will feel like a special friend. If you bring a friend then you will have a discount on your registration fee. Friday night will be a 'hats spectacular the best fashion show you have ever seen.
' Amersfoort is about 400km from Luxembourg and could be a four hour drive. But if we car pool, it cuts the cost of the fuel and is great fun to chat on the way. ____ Le comité des Femmes de l'Europe de l'Ouest organise une conférence du jeudi 26 septembre au samedi 28 septembre. Kathy Watson-Swift et Krystal Bono seront les oratrices. L'inscription est de 100 € par personne et elle comprendra 2 déjeuners et 2 dîners. Kathy, notre leader des Femmes de l'Europe de l'Ouest, a une vision spéciale pour cette conférence. Elle vous invite alors à ramener une amie qui ne connaît pas le Seigneur. Ce sera différent, un événement pour celles qui ne sont pas habituées au cadre de l'église, mais à la fois un événement guidé par le Saint-Esprit et rempli de Sa présence.
Kathy souhaite que les moments passés ensemble soient un temps précieux et que nos invitées se sentent comme des amies spéciales. Et puis, si vous ramenez une amie, vous bénéficierez d'un tarif d'inscription réduit. Et puis, si vous ramenez une amie, vous bénéficierez d'un tarif d'inscription réduit. Vendredi soir nous aurons la fête des chapeaux, le meilleur défilé de mode que vous ayez jamais vu. ' Amersfoort est à environ 400 km du Luxembourg, c'est-à-dire un trajet d'environ quatre heures. Mais si nous faisons du covoiturage, le coût du carburant sera moindre et nous pourrons aussi parler en chemin. HOTEL INFORMATION There are three hotels in the area, when you have booked for the conference we will send you the names and information. You will be responsible for booking and paying for your own hotel.
The cost of a two person room which includes breakfast is approximately €45-55 per night per person. One Hotel has eight family rooms, this will be for four people sharing. Obviously if you don't want to share, the room cost is more. All the hotels are within a 10 minutes' drive of the church.  ___ Il y a trois hôtels aux alentours. Une fois que vous avez réservé votre place à la conférence, nous vous en enverrons les noms ainsi que les informations pertinentes. Vous devrez réserver et payer pour votre hôtel. Le prix d'une chambre double avec petit déjeuner est d'environ 45 à 55 € par nuit et par personne. Un des hôtels a huit chambres à quatre personnes. Évidemment, si vous ne voulez pas partager votre chambre, le coût sera supérieur. Tous les hôtels sont à 10 minutes en voiture de l'église.
Fletcher Hotel AmersfoortStichtse Rotonde 113818 GV Amersfoortemail:
[email protected]
nr: +31 (0) 33 467 9900The ladies have to mention the reference number: F92-GFC4502 Fletcher Hotel Het Witte HuisBirkstraat 1383768 HN Soestemail:
[email protected]
nr: +31 (0) 33 432 8255The ladies have to mention the reference number: F63-FC59547  This is for 5 double rooms; Thursday 26th September - Friday 27th September 33 double rooms; Friday 27th September - Saturday 28th Septemberemail:
[email protected]
ladies have to mention the reference number: F63-FC58374 Dewey DonkerslootKantoor: Fletcher Hotel Amersfoort
Stichtse Rotonde 11
3818 GV Amersfoort
Tel.: +31 (0)33 467 99 04 Van der Valk Hotel Amersfoort - A1Ruimtevaart 223824 MX AmersfoortMail:
[email protected]
:+31 33 454 0000 Van der Valk Hotel Leusden - AmersfoortPhilipsstraat 183833 LC LeusdenE-mail :
[email protected]
: +31 33 434 5345 Both Van der Valk hotels are near the church building : (with a car 15 minutes)Evangelische Gemeente De ArkEvertsenstraat 853814 SG Amersfoort HILTON ROYAL PARC SOESTDUINENd: +31 35 603 8305  t: +31 35 603 8383van Weerden Poelmanweg 4-6, 3768 MN Soestduinen, The Netherlandssoestduinen.hilton.comhilton.com    Use the following for booking reservations http://eventsathilton.com/show/5d417eb7ff558c53cd1a0955