Colorado Charlie opening w/ Âme (live)
| | |
| --- | --- |
| City | The Hague |
| Provincie | Zuid-Holland (ZH) |
| Datum | 05/04/2019 |
| Uur | 17:00 |
| Categorie | Events |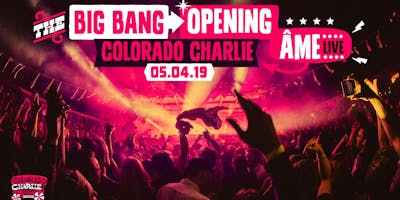 Colorado Charlie Summer opening w/ Âme (live)Afgelopen zomerseizoen kreeg de Nederlandse kust ter hoogte van Scheveningen een aangenaam schurend voorproefje van het Nieuwe Genieten aan Zee. New kid on the block Colorado Charlie maakte fier entree en liet een zilt en brandend verlangen achter naar meer. Geen nood, het openingsfeest van dit jaar staat al in de stijgers. Op vrijdag 5 april gaan de vers gestreken strandvlaggen speels uit.2018 ging op moddervette elektronische beats van begin aan op klinkende namen als Joris Voorn, Miss Melera en VAAL tot king closing Benny Rodrigues heupwiegend los. Naast dansen stond (en staat. ) vooral de big chill centraal. Ongedwongen genieten van drinks en bites op kabbelende elektronica, singer-songwriters en zelfs waanzinnig populaire Karaoke feestjes.
In 2019 legt Colorado Charlie de lat weer hoger. Over de hele linie wordt een upgrade doorgevoerd, wat te merken zal zijn van kleine feestjes vanuit de keuken en bar tot mindfulness aan zee dankzij bijvoorbeeld yoga op zondag en een scala aan andere prikkelende nieuwe concepten. Voor elk wat wils, van dag tot nacht.Eerst dus dit alles gepast aantikken op een maatgevend openingsfeest onder gelijkgestemden. Colorado Charlie staat vol verwachting te trappelen van ongeduld. Op vrijdag 5 april aan het Scheveningse strand bij het Zwarte Pad merk je waarom. Wees welkom en voldaan. Colorado CharlieZwarte Pad 64Vrijdag 5 april 201917:00 – 24:00Âme (live)TicketsEarly €15,- (Start Ticket Sale 11.02.19 / 10:00 AM)Regular €17,50Door €20,-18+Zero ToleranceENGColorado Charlie Summer opening 2019Last season, the Dutch coast was treated a pleasant appetizer of The New Enjoyment at the Sea.
New kid on the block Colorado Charlie fiercely made its entrance and left the happy crowds behind with a salty and burning desire for more. Behold, the 2019 opening party is currently in the works. Colorado Charlie will hoist its freshly ironed beach flags on Friday, April 5.The summer of 2018 started with soul-shaking beats from the likes of Joris Voorn, Miss Melera and VAAL and ended with a massive bang on king closing Benny Rodrigues. Besides dancing, The Big Chill was and will continue to be Colorado Charlie's key mission. Unrestricted and uncomplicated seaside enjoyment, from flowing electronic sounds, singer-songwriters to the instantly infamous Karaoke parties. For 2019, Colorado Charlie will raise the bar even higher. From pleasingly noticeable upgrades from behind the bar and kitchen to seaside mindfulness thanks to Sunday yoga sessions.
Colarado Charlie will take the summer of 2019 by storm, with a range of concepts and upgrades. Pleasing every chill seeker of every age, from day to night.Rest assured, all of this new energy will be neatly bundled together in the upcoming opening party. This will prove a highly pleasurable get together amongst likeminded known and fresh new faces, all sharing the same passion for fun under the sun. Team Colorado Charlie is looking forward with jolted anticipation. Mark Friday, 5th of April, in your calendar for the opening of the year at Scheveningen's Zwarte Pad. Be there and be merry. Colorado CharlieZwarte Pad 64Vrijdag 5 april 201917:00 – 24:00Âme (live)TicketsEarly €15,- (Start Ticket Sale 11.02.19 / 10:00 AM)Regular €17,50Door €20,-18+Zero Tolerance