Design a Better Business Experience - Amsterdam - June 2020
| | |
| --- | --- |
| City | Weesp |
| Provincie | Noord-Holland (NH) |
| Uit | 03/06/2020 |
| De | 04/06/2020 |
| Uur | 09:00 |
| Categorie | Events |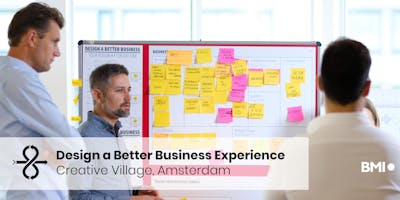 A TWO DAY LIMITED EDITION WORKSHOP + EVENT NIGHT. There is no better way to learn about the tools, cases, and mindset behind Design a Better Business than experiencing it in a two-day workshop. We organize a limited number of workshops where we will do a deep dive and help participants become designers. Are you one of the lucky participants? You will experience a 2-day workshop and dinner in Amsterdam, The Netherlands Why should you come? You are a rebel and want to transform your business or start a new business. You are a business leader, an aspiring entrepreneur, a corporate innovator, a growth investor, a social impact change agent or enterprising student, this deep dive will yield you many insights and experience with new tools to change uncertainty into opportunity tomorrow.
You want to look for like-minded people and connect with the community. Oh, and you're not looking for yet another workshop. You're looking for a true experience. What you learn How design thinking can be applied to both strategy and innovation How design thinking tools are different and will lead to different results Get familiar with non-linear thinking and apply the Double Loop Learn how to set your Point of View (POV) Learn how other organizations apply these new tools and skills Apply visual thinking during these two days so you become addicted THE PROGRAM DAY 1 BLOCK 19:00-10:30 EMBRACE UNCERTAINTYDesign thinking applied for strategy and innovationLinear thinking vs. The Double LoopThe seven essential skills of designersDesign criteria as a toolbox for business (tools COFFEE BREAK BLOCK 211:00-12:30 YOUR POINT OF VIEW (POV) What is your Point of View? Do you have one?Design your vision and strategy with the 5 bold steps vision canvas (tool)The Cover Story as a vision warm-up exercise (tool)How to connect your vision to your business model and value proposition LUNCH BREAK BLOCK 313:30-15:00 UNDERSTAND CUSTOMERS How to understand your customer best through observationUnderstand your customer with the persona and right-hand side of Value Proposition Canvas (tool)The art of asking the right questions to the right people COFFEE BREAK BLOCK 415:30-17:00 IDEATE AND DESIGN NEW VALUE PROPOSITION Design your value proposition with the value proposition canvas (tool)Case Study EVENING DAY 1 17:00 Drinks  18:15 Dinner, Continuous learning & socialize DAY 2 BLOCK 19:00-10:30 PROTOTYPE: GET INTO THE MAKERS' MINDSET 5 Innovation techniques to get your engines going.
Exponential business models: examples & what can we learn from that design?Prototyping business models and value propositions COFFEE BREAK BLOCK 211:00-13.00 VALIDATE & EXPERIMENT How to find the most riskiest assumption with the riskiest assumption finder (tool)Build a minimum viable product yourselfSet up experimentsValidate your assumptions and track your pivots. LUNCH BREAK BLOCK 314:00 15:00 LEARN & PIVOTWhat is a pivot? How do you pivot?Prepare your story. Construct a story that people care to listen toUse the Investment Readiness Level of Steve Blank as a roadmap (tool) COFFEE BREAK BLOCK 415:30-17:00 STORYTELLING & THE ART OF FACILITATION Prepare your pitch for the investors. Tell your story. The art of facilitation (how to design meetings & innovation workshops, the screenplay as a tool, team charter to get the right team on board and more.
) What do you get when you join our workshop? The Book Design a Better Business The essential toolbox with templates Set of markers, post-it notes to work with BMI• Creative Village experience including drinks, lunch, and dinner A storytelling toolkit to get your message across Screenplays for strategy and innovation workshops Who will run the workshop? This experience is powered by Business Models Inc. Patrick van der Pijl, the author of the book, is the founder of Business Models Inc. and people of Business Models Inc. Please keep in mind... This experience will only take place with a minimal of 12 participants. This means that the experience could be cancelled. Based on our experience, we expect more than enough people who are willing to participate.
But we want to ask you, please wait with arranging your flight & hotel before we send you a confirmation. You'll receive more information when you've bought your ticket. You'll receive more information when you've bought your ticket. This includes a discount booking link for our favourite hotel and more practical info.  If you have any questions, send an email to 
[email protected]
or reach out to us at +31 20 505 0600. https://www.businessmodelsinc.com/masterclass/dbb/