Food for Thought Session (Breakfast)
| | |
| --- | --- |
| City | The Hague |
| Provincie | Zuid-Holland (ZH) |
| Datum | 15/03/2019 |
| Uur | 08:00 |
| Categorie | Events |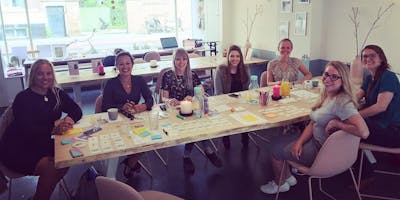 "Don't be afraid to be open minded, your brain is not going to fall out". Doors Open Female Hub is all about learning from and with each other. That is why we are hosting another round of our famous brainstorm sessions. Did you know that food stimulates the brain? That is why we are organizing our brainstorm sessions at breakfast, lunch or dinner. You will share the table with other female entrepreneurs and professionals and will get new insights, perspectives and ideas. What will we be brainstorming about? That's completely up to you. Every woman will get the chance to share her story, question or challenge. Do you get nervous when you need to call a potential client? Are you looking for fresh ideas on how to launch your product ideas? Or do you struggle with your work-life balance and do you want to know how others deal with this? Whatever it is you would like to share, we can guarantee you that you will walk out of the door with a stomach full of delicious food and a head full of inspiration and motivation.
Who is organizing these sessions? The brainstorm sessions are hosted at Doors Open Female Hub, the number one coworking & co-learning space for women in The Hague. The sessions are led by Suzanne Mau-Asam, founder and owner of Doors Open and Doors Open Female Hub. Suzanne has over a decade of experience as Learning & Development expert, working with and for freelancers, start-ups, multinationals and government organizations. Rest assured, she knows how to activate your brain and your learning mindset. Programme 08.00: welcome participants in the Hub 08.10: opening 08.15: start breakfast and 1st breakout session 08:55: break 09.05: 2nd breakout session 09.45: round off Price €15. This includes a delicious and healthy breakfast. Maximum number of participants To make sure everyone leaves with as much inspiration and motivation as possible, and to make sure we deal with everyones' thoughts, ideas, questions and/or challenges in depth, we have a maximum of 8 participants.
So be sure to get your ticket now.