Gathering en Styling in oude fabriek
| | |
| --- | --- |
| City | Hoorn |
| Provincie | Noord-Holland (NH) |
| Datum | 28/10/2019 |
| Uur | 10:30 |
| Categorie | Events |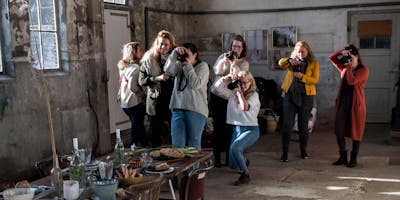 Mis je het om te oefenen met je fotografie en het stylen van producten?Kom dan deze dag naar de prachtige oude fabriek in Zuidermeer. Deze dag krijg je de kans om te free stylen en foto's te maken voor je portfolio, Instagram of blog. Deze keer gaan we de kerst editie doen dus neem al je kerst styling spullen mee. Ontmoet andere creatieve mensen, deel tips en kennis met elkaar en leer van elkaar. Je kunt je eigen hoekjes stylen en dit vastleggen met je camera of gebruik maken van je telefoon.Zie het ook als een kans om te netwerken en andere contacten op te doen.Er zijn twee verschillende grote mooie ruimtes, een kas  dus genoeg plekjes om te fotograferen. Er zijn verschillende props aanwezig zoals krukjes, lange tafel,  tafeltje, bloemen, mooi eten. Neem ook zelf props mee van huis dus dat mooie oude houten stoeltje gaat gewoon lekker mee.
Let op: het is geen fotografie workshop. Dan verwijs ik je door naar de workshop fotografie. Wat neem je mee?- camera of telefoon met batterijen/opladers- eventueel statief - visitekaartjes- neem vooral zelf props mee die je graag op de foto wilt hebben. - er zit geen lunch bij inbegrepen, neem gerust zelf een broodje mee. Je kunt dus ook alleen met je telefoon foto's maken. Algemene voorwaarden: – Het reserveren van een workshop houdt in dat je de toepasselijkheid van de algemene voorwaarden aanvaardt– De vermelde prijzen voor de aangeboden diensten zijn in euro's.– Betaling dient vooraf betaald te zijn via Eventbrite.– Er vinden geen refunds plaats.– Voorbehouden vanwege ziekte of te weinig deelnemers. Do you miss practicing photography and styling products? Then come this day to the beautiful old factory in Zuidermeer.
This day you will get the chance to free style and take pictures for your portfolio, Instagram or blog. This time we are going to do the kesrt edition so take all your Christmas styling stuff with you. Meet other creative people, share tips and knowledge with each other and learn from each other. You can style your own corners and capture this with your camera or use your phone.Also see it as an opportunity to network and make other contacts. There are two different large beautiful spaces, a greenhouse so plenty of places to photograph. There are several props available such as stools, long table, table, flowers, nice food. Bring your own props from home so that beautiful old wooden chair just goes with it. Note: it is not a photography workshop. Then I refer you to the photography workshop.
What do you bring with you?- camera or phone with batteries / chargers- possible tripod - business cards- Please bring your own props that you would like to have on the picture. - There is no lunch included, feel free to bring your own sandwich. So you can only take pictures with your phone. General terms and conditions: - Booking a workshop means that you accept the applicability of the general terms and conditions.- The prices quoted for the services offered are in euros.- Payment must be made in advance via Eventbrite.- There will be no refunds.- Reserved due to illness or lack of participants.