HOST Practitioners & Master Training
| | |
| --- | --- |
| City | Weesp |
| Provincie | Noord-Holland (NH) |
| Uit | 05/06/2020 |
| De | 07/06/2020 |
| Uur | 08:30 |
| Categorie | Events |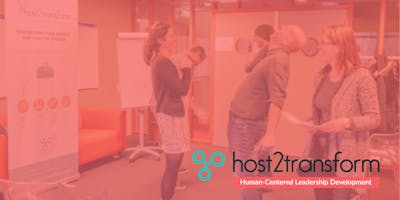 3-days HOST Master Training for "Change" Consultants purpose-driven to help individuals, teams, and organisations transform, lead, and thrive in ourfast-changing, complex, uncertain, and digital world. As a pioneering and forward-thinking "change" consultants purpose-driven to transform the current leadership-, organisational-, learning and development "industry", we believe it's our moral and ethical responsibility to upskill ourselves with transformative, personalised, and blended "change" practices that enable us to truly help forward-thinking leaders, teams, and organisations transform, lead, and thrive and seize new opportunities in an unpredictable future. To help fast-changing organisations grow "change" leadership on all levels that foster a human-centered work culture for (mental) wellbeing, ongoing innovation, and intercultural collaboration.
Global urge to drive real transformationWhy the global urge? Don't take our word for it, read the facts that call for a leaderShift to help people, businesses, and societies survive, transform, lead, and thrive in the new economic paradigm. From change to ongoing innovation and transformationFast-changing work environments are the status-quo. Truly transformative (agile and resilient) organisations will survive and thrive in our "crazy" VUCA (volatile, uncertain, complex, and ambiguous) world. Fact check. From system-centered to human-centered leadership and workplace culturesToday's fastest growing economies go hand-in-hand with a growing burn-out epidemic. How far can companies wear-out their employees and approach them as "machinery" to grow performance? If leading companies would only look at the facts, the numbers, they would learn that 1 burn-out case costs them at least 60.000 euros and has their employee out-of-work for at more than 230 days.
With the big question mark: if they ever willfully "recover" again... Fact check. From teams to self-improving communities and global ecosystemsDigitalisation and globalisation are growing exponentially. It gives us the opportunity to  stay "connected" with the whole world, while, paradoxically, we've never felt more isolated than ever. How to help organisations benefit from the opportunity to scale and grow exponentially, while keeping their sanity for intercultural collaboration, to connect beyond differences and bias and champion each individual for his/her unique strengths? Fact check. This unique 2-day HOST Master Certification Training is designed to empower you to: Unlock the potential within individuals, teams, and organisations;Unlock the potential by creating human conditions to make change work, with ease, joy and scalable people, business, and societal impact.Integrate HOST into your own "toolkit for change" and be more competent and feel more confident to respond to the (emerging) needs of fast-changing organisations. Without "tricks", "models", and "theories".You're your best tool to drive transformation...
Unlock your potential by stretching your comfort zone and grow your circle of influence;Through "interventions" on the personal level, we help you reflect on your own mindset and behaviours, to break free from patterns that no longer serve you nor your (work) environment.Tap into your "powers", be(come) your authentic-self by being present and aligned in what you do, feel and say. Create an uplifting, learning, and leading environment in no-time. Grow your organisation and/or your business to make change work;Business, strategy, and sales coaching happen mostly during the online HOST personalised group coaching sessions, through co-creation and growth-mindset social techniques we'll help you to align your purpose with your business practices to scale your impact in exponential ways.Participants who are interested in partnering with HOST, can stay an extra (free) third day.
Together, we scale our impact and business in win (you)-win (clients)-win (society)-win (HOST) ways. Note: partnerships are application-based only. Connect, exchange, share, have fun and buddy-up with your peers from across the globe. Explore and enjoy gorgeous Amsterdam;We'll not be stuck on a chair in a venue 2-days long. We use the city, nature, and hidden gems of Amsterdam as a unique opportunity to curate our learning journey. What is included in the program*: 2 lunches; 2 dinners;  healthy snacks, coffee and tea; extra-extracurricular activities; 2-day program inside and outside our HOST venue; Optional: 3rd day to explore HOST partnerships (on application basis only); Certification visible on Linkedin and the official HOSTcertification.org website (to be launched in October); Receive your deserved visibility through an online interview and podcast (only for those who have received their HOST Master Certification).
*Only for non-Early adopters, early adopters get the opportunity to buy a voucher to join lunches, dinners and complementary activities with a discount. What is NOT included in the program:Breakfast, (any) transportation, (any) insurance, and (sleeping) accommodation costs/fee. This HOST Master 2-day in-person training gives you the opportunity to receive guidance and coaching by your peers and Jessica Tangelder (creator of HOST2Transform) to experience and experiment with HOST, which saves you time, energy, and cost to organise it yourself and enables you to learn in exponential ways.  Together with your peer HOST practitioners, before-during-and-post the 2-day training, you will partially create and host this two-day program, and accelerate your learning through learn-by-doing and learn-by-teaching. 10 highlights what makes this training a game-changer... Create your own learning journey and tap into lifelong transformational learning; Together with your peer HOST practitioners, you create and host this two-day in-person program to accelerate your learning and development by experiencing, "teaching", and reflecting on internal and external events. Help Reshape the "Change" Consultancy (training-coaching-consulting) industry to create and seize new career or business opportunities. We help you host "interventions" that disrupt the status-quo and lead into new ways of thinking and scaling people, business and societal impact. Together we flip patterns without being dogmatic and by laughing and being humble about the ones we still own ourselves. We rewire how we operationalise "KPI" systems by including purpose, vitality, entrepreneurship, and inclusive collaboration (resilience and agility).We move beyond the trends for 21'st century-soft skill development - the 4-C's that stand for improving communication, collaboration, critical thinking, and creativity - and rather treat the cause, not the symptoms by growing our personal awareness and collective consciousness to get to sustainable decision-making to scale impact. Leverage the impact of existing "change" frameworks;We embrace minimal structure for maximal engagement and impact. We are not dogmatic or competitive towards existing human-centered change frameworks. After all, it's our aim to unlock the potential within people, teams and organisations to create the human-conditions to make change work. Meaningful certification;We help facilitate and bring clarity into your journey of lifelong learning and development, not only during these 2-days of training but also before, during, and after this 2-day training, we continue our journey in growing our impact on people, business, and societal level. You will receive your certification only when you show up (literally but also in your acts), learn from your brilliant mistakes by working with continuous feedback loops.Based on our "Get AGILE. " reflection framework/ parameters, we challenge and guide your transformation into the new. Flipping the classroom & blended learning Life didn't come with a "script" so why would we program the full 2-days from A to Z? We work in iterative ways to align with the emerging needs of the group before, during and after the 2-day training. After your enrollment we like to learn what you'd like to take away from the 2-day training program and how this leverages the global online HOST coaching. Embracing brilliant failures;We aim to work in personalised and experiential ways. We help you trust your "gut" and "purpose" by creating unconventional learning experiences that might take you out of your comfort zone and transforms you into the best version of yourself. If you didn't make any "mistakes" you could reflect upon, you have postponed your growth. Multidisciplinary approach;Jessica will share her hands-on experiences applying her academic background in organisational anthropology, sociology, international relations, applied improvisation, and business innovations, to help reinvent how we work, lead, and educate. Light-heartedness for the serious business of making change work;There will be dance, fun, laughter, food, and time to relax. At the beginning of each day, the highlights of that day will be shared, like life doesn't come "with a script", let's "get agile" and keep the program as demand-based and exciting as possible.   Personalised approach;The group will be a maximum of 12 participants, we balance between group, personal and plenary reflection moments, to facilitate change from the inside-out and outside-in. It will be a fully personalised and extraordinary experience where you're in charge of your learning experience. How? By being AGILE ;-) through continuous feedback-loops and iterations in order to stay aligned with your (emerging) needs, while applying various learning styles. Lifelong EmployabilityGet equipped to unlock 21st-century, social-emotional, or transversal skill development that will be needed by any forward-thinking organisations that understand the urge to transform, innovate, and lead in a new economic paradigm to either survive or thrive in newly created markets.The World Economic Forum reports the ten skills listed below to thrive in 2020: Creativity. People management. Coordinating with others. Emotional intelligence. Judgement and decision making. Service orientation. Negotiation. Cognitive flexibility. HOST Business ecosystem: win-win-win-win For the entrepreneurial minds eager to scale their impact and grow with HOST while creating a second (or third?) income next to your current business or career, it's possible to fill in our HOST partnership application form to explore a partnership (e.g. an affiliate, associate, or business partner). 1. Questions? Apply for a free online one-on-one clarity call with Jessica Tangelder to discover if we're a match. 2. Like to apply with a group?Schedule an online meetup here for tailored team opportunities and discounts.