| | |
| --- | --- |
| City | Utrecht |
| Provincie | Utrecht (UT) |
| Datum | 28/05/2019 |
| Uur | 17:00 |
| Categorie | Events |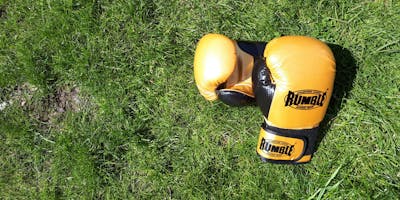 Want to learn boxing and also train for more strength? Come to this 1.5 hour outdoor class where we do both. Advantages:-You will learn proper boxing techniques. On request also kickboxing techniques.-You will tone your whole body so you will super fit this summer. - Trainer pays attention to your technique, both in boxing and other exercises. This ensures that you are training properly.- Closeby for students that live at IBB or study at HKU IBB because it is right behind the IBB student houses. Every Tuesday from 17.00 h to 18.25 h.What to bring: Water bottle. Come in sports clothes that suit the temperature. Do you have boxing gear that you can bring? Great. If not, you can borrow it, no problem. Fee: For a singel class you pay €7. Boxing techniques will be explained to you and you will practice how to use them.
Safety first so no knockouts in this class. After the boxing we finish with strength and stamina exercises so you are sure you work on your summer body ;) By participating in the lesson you agree to the following conditions: Registering:Send a message to Jojafit on facebook or whatsapp to 0634622429 to register yourself or cancel. Cancellation is possible untill one hour prior to the training (tuesday 16 h). Joining spontaneously is possible but a spot can not be garantueed in that case. There is currently a maximum of 10 people per training. This ensures that everyone gets attention from the trainer and can get individual learning points. Payment is always made prior to class. You can pay cash OR digitally. The latter is done by transferring the money to NL13INGB0008715042 in the name of JWE Voorhoeve.
In the latter case you must send a screenshot of the transaction by whatsapp to 0634622429.Also, you agree to this statement:"I am aware of my own health and physical condition and know that my participation in a training program can be harmful to my health. I volunteer to participate in physical activity with Jojafit. I do not hold Jojafit liable for an accident or illness that I may incur as a result of participating in the aforementioned physical activity. I am aware of all the associated risks and agree to participate in the Jojafit program. I promise to reveal physical limitations such as injuries, disabilities, ailments or disorders when they affect my ability to participate in physical activities."