Kanban System Design KMP1
| | |
| --- | --- |
| City | The Hague |
| Provincie | Zuid-Holland (ZH) |
| Uit | 28/11/2019 |
| De | 29/11/2019 |
| Uur | 09:00 |
| Categorie | Events |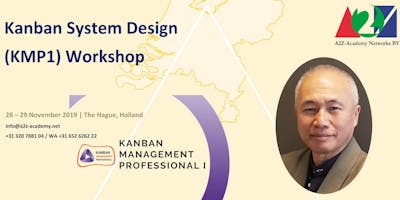 Kanban, an Alternative Path to Agility The essence of Kanban: "Start where you are", "Stop starting, start finishing", be pragmatic and take small steps. Take the approach of natural evolutionary change. There is no need for drastic changes in service delivery or organizational structure. With Kanban you can even let your current silo work. You will be able to apply Kanban practices the first day in the office after the training. The Kanban System Design KMP1 is a highly interactive 2 days course, which is accredited by the Lean Kanban University LKU. It's a combination of instructor-led training, group discussions and game simulation to illustrate how well the method helps teams and organizations to enhance their service delivery process. It covers in detail the Kanban Method and using the STATIC approach.
The series for the Alternative Path to Agility can be found here: https://leankanban.com/wp-content/uploads/2016/04/LKU-AltPath-trifoldbrochure-USLetter.25inchfullbleed-FINAL-PRINT.pdf What is the Lean Kanban University (LKU) The LKU is the body that provides the curriculum of the Kanban trainings and looks after the quality of the teachings. The parent body of LKU, Lean Kanban Inc was founded by David J Anderson After completion of training you will be able to: Analyze internal and external resources of dissatisfaction Analyze and aligning demand & capability Design a Kanban system and visualize your workflow Identify bottlenecks Identify classes of service Create flow using WIP limits Use several metrics to manage the workflow: Cumulative 0Flow Diagram, Lead Time Distribution, Flow Efficiency Guide adoption of Kanban – using the STATIK approach The Deliverables The training is designed as a hands-on workshop and uses exercises and simulation games alongside instructor-led discussions and presentations.
You will receive: Lean-Kanban University (LKU) certificate A copy of the course slides A copy of the ebook "Kanban – Successful Evolutionary Change for Your Technology Business" by David J. Anderson Membership of the Lean-Kanban University (LKU) Who can attend the training? Anyone in product development or knowledge work can benefit from this training. It's very useful for everyone interested in implementing Agile in their organization: Team leaders Agile Coaches & Consultants Product - & Software developers, Business Analysts Product -, Project -, Program – and Line Managers Contact:  E: 
[email protected]
  T: +31 320 - 7881 04  WA +31 652 6262 22 EXTRA If there sufficient interest, day 3 will be used to discuss a case study "Kanban in an ITIL environment"