Leading SAFe 4.6 (X-Mas Course)
| | |
| --- | --- |
| City | Amersfoort |
| Provincie | Utrecht (UT) |
| Uit | 23/12/2019 |
| De | 24/12/2019 |
| Uur | 08:30 |
| Categorie | Events |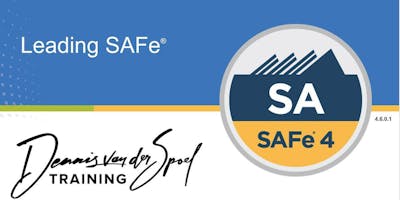 ***X-Mas Promotion*** Limited Offer: € 1050 excl. BTW/VAT. Regular price: € 1395 excl. BTW/VAT. Summary During this two-day course, attendees will gain the knowledge necessary to lead a Lean-Agile enterprise by leveraging the Scaled Agile Framework® (SAFe®), and its underlying principles derived from Lean, systems thinking, Agile development, product development flow, and DevOps. They will discuss the five competencies needed to become a Lean Enterprise. They will also learn and practice the skills for supporting and executing PI Planning events and coordinating multiple Agile Release Trains (ARTs). Attendees will gain an understanding of the Lean-Agile mindset, why it's so effective in today's adapt-or-die marketplace, and what it means to lead a Lean-Agile transformation.
They'll also learn how to build and support Agile teams and programs, empower a Lean Portfolio, build a Continuous Delivery Pipeline and DevOps culture, and coordinate large solutions. They will develop a skill set that's in demand worldwide—and empower their enterprises to succeed in a disruptive marketplace—when they become a SAFe® 4 Agilist (SA). Attending the class prepares individuals to take the exam and become a certified SAFe® Agilist (SA) The class registration includes: Attendee workbook Preparation and eligibility to take the SAFe® 4 Agilist exam One-year membership to the SAFe Community Platform Course certificate of completion Attendees must attend both days of the course in order to be eligible for the exam. Attendees who pass the certification exam will receive: SAFe Agilist certificate A SAFe 4 Agilist digital badge to promote your accomplishment online A one-year certified membership as a SAFe Agilist, which includes access to the SA Community of Practice A SAFe Agilist certification usage guide with SA certification marks Access to a variety of learning resources to support certified professionals during their SAFe journey   TWO-DAY TRAINING PROGRAM Each course day starts sharp at 9:00 and ends at 18:00 hours, including lunch and intermission.
There is a light breakfast for those who arrive early. If all attendees speak Dutch, the trainer will speak Dutch, otherwise the trainer will provide the class in English. All materials and courseware are in English.   Topics covered Introducing the Scaled Agile Framework (SAFe) Becoming a Lean-Agile Leader Creating high-performing teams and trains Experiencing Program Increment (PI) Planning Releasing on Demand with DevOps Building a Lean Portfolio Leading the transformation   Prerequisites All are welcome to attend the course, regardless of experience. However, the following prerequisites are highly recommended for those who intend to take the SAFe® 4 Agilist (SA) certification exam: 5+ years' experience in software development, testing, business analysis, product, or project management Experience in Scrum   Exam Details Exam name – SAFe 4 Agilist Exam Exam format – Multiple choice Exam delivery – Web-based (single-browser), closed book, no outside assistance, timed Exam access – Candidates can access the exam within the SAFe Community Platform upon completion of the Leading SAFe course Exam duration – Once the exam begins, candidates have 90 minutes (1.5 hours) to complete the exam Number of questions – 45 Passing score – 34 out of 45 (75% passing score) Language – English Exam cost – First exam attempt is included as part of the course registration fee if the exam is taken within 30 days of course completion.
Each retake attempt costs $50. Retake policy – Second attempt on exam (first retake) can be done immediately after first attempt. Third attempt requires a 10-day wait. Fourth attempt requires a 30-day wait. Contact 
[email protected]
 for any retake questions.   Professional Development Units (PDUs) and Scrum Education Units (SEUs) Attendees may be eligible to apply for 15 PDUs toward their continuing education requirements with the Project Management Institute (PMI) for PMP, PgMP, and PMI-ACP certifications Attendees may be eligible to apply for SEUs under category C, toward earning or renewing their CSP through Scrum Alliance   AUDIENCE You are working in an organization where a movement towards an Agile way of working is in progress or desired.
This course fits every role within the organization. Whether you are responsible for a product, a service, a project, a program or a portfolio, and whether you work as a manager, a consultant or an executive professional, on the basis of this training, you can apply the principles of SAFe® in order to further develop your organization in a rapidly changing environment. Executives and Leaders, Managers, Directors, CIOs, and VPs Development, QA, and Infrastructure Management Program and Project Managers Product and Product Line Management Portfolio Managers, PMO, and Process Leads Enterprise, System, and Solution Architects   Trainer Dennis van der Spoel is a very experienced change leader, coach, trainer, and consultant. For the last 30 years, he has been at the forefront of strategy realization, innovation, business-IT alignment, and product development, often including agile transformations.
In 65+ interim assignments with over 40 organizations across 8 countries, he has engaged individuals and teams from boardroom to work floor. He likes to use story-telling and creative workshop facilitation to make his point. He often speaks at seminars, conferences, and summits around the world. He is a Registered Change Management Practitioner and Certified SAFe® 4 Program Consultant.