LEGO® SERIOUS PLAY® HERO'S JOURNEY
| | |
| --- | --- |
| City | Weesp |
| Provincie | Noord-Holland (NH) |
| Uit | 21/02/2020 |
| De | 22/02/2020 |
| Uur | 09:00 |
| Categorie | Events |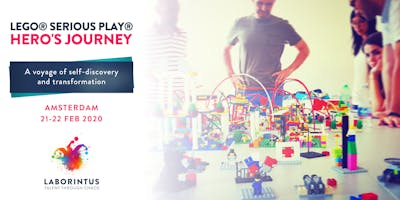 The original 2-Day Workshop LEGO® SERIOUS PLAY® HEROS JOURNEY Facilitated by EMANUELE CICCARELLI (LSP Certified Facilitator). Be prepared for the most powerful experiential voyage of transformation and self-discovery for creative talent development. Explore yourself as never before through this original experience based on the HERO'S JOURNEY narrative structure in which LEGO® bricks are used as a catalyst for creativity and change. PLEASE NOTE that the participation fee includes the following items for both days: Unlimited Coffee & Tea and Energizers Breakfast Lunch with seasonal products incl organic juices Filtered sparkling and flat Amsterdam tapwater The workshop is aimed to explore,  clarify and challenge your: Attitude, personal strengths and talents Weaknesses and obstacles Values, behavioral patterns and decisional styles Goals and purpose Aspirational projects and action strategies The ideal target is: Anyone who's dedicated to self-discovery and talent development People in search of orientation, both in professional and educational context, such as students, young professional, managers...
Professionals in the educational field - such as trainers, facilitators, coaches... - in search of new disruptive tools to help people facing change and personal development Lego® Serious Play® is a facilitated method for strategic decision-making and problem-solving in complex environments designed to enhance team development, personal transformation and business performance. Its goal is fostering creative thinking by building experiential metaphors of personal/group identities, aspirations and experiences using Lego® bricks as a catalyst. The facilitation reshapes the classic approach to Lego® Serious Play® by relying on Gestalt and analytical psychology, leading participants to experience the human side of this methodology. The Hero's Journey is an archetypal story pattern, common in ancient myths as well as modern day adventures.
The concept of the Hero's Journey was described by the curious mythologist Joseph Campbell in his book The Hero with a Thousand Faces, inspired by the pioneering work of C.G. Jung and then refined by many other authors after him. What Joseph Campbell observed is that all stories consist of common structural elements of stages found universally in myths, fairy tales, dreams, novels and movies: then the Hero's Journey was his all-embracing metaphor for the deep inner journey of transformation that heroes in every time and place seem to share, a path that leads them through great movements of call to adventure and separation through the symbolic passage of a threshold, initiation and tests, ordeal and death, resurrection and return: hence the monomyth. Why is it so important and how does it impact us? Our identity is a story.
The one we have told ourselves so many times that we have ended up believing in it blindly. So, how to stop it and start believing we can actually  change? Well, in order to change ourselves we first need to  change that story . But that would require a stronger, shaking, transforming one. Here lies the power of the  Hero's Journey . AGENDA DAY 1 8:45 - 9:15 Breakfast ( included ) 09:15 - 13:00 The call to adventure The Hero's birth 13:00 - 14:00 Lunch ( included ) 14:00 - 18:00 Beyond the threshold: the spirit guide The hero's fellowship AGENDA DAY 2 8:45 - 9:15 Breakfast ( included ) 09:15 - 13:00 Meeting the oracle Hero's final transformation 13:00 - 14:00 Lunch ( included ) 14:00 - 18:00 The hero's plan The Challenge Way back - new life