Matterport User Meetup - Amsterdam Oct 15th
| | |
| --- | --- |
| City | Hoorn |
| Provincie | Noord-Holland (NH) |
| Datum | 15/10/2019 |
| Uur | 09:00 |
| Categorie | Events |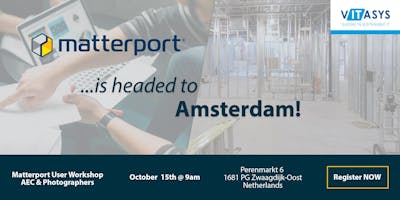 Vitasys, one of the most innovative IT-suppliers of the Netherlands and Matterport, the world leader in 3D immersive media technology are pleased to announce the first-ever Matterport AEC and Photography Meetup to be hosted in Zwaagdijk-Oost, Oct 15st. Current users of the Matterport Pro Solution along with the Dutch architecture, engineering and construction (AEC) industries, and other aligned or interested parties are welcome to register for this event (places will be limited). The agenda includes an address by Matterport members, as well as presentations and hands-on demonstrations on the exciting Leica BLK360 integration. Vitasys is actively involved in the partnership between Leica Geosystems and Matterport, which will allow users of the Leica BLK360 to combine data with Matterport's Pro2 3D camera using the Matterport Capture app.
This will deliver a fast, simple solution for creating, modifying, distributing, and navigating immersive 3D and digital images for the AEC industries. Given the nature of the Meetup, there will be an open forum to discuss your experiences and future workflows. Presentations of existing Matterport Spaces will be welcomed. Demonstration on how you can improve your construction documentation with Matterport and make your existing projects more transparent and efficient will be part of an open discussion. Workshop voor Matterport gebruikers – Amsterdam 15 okt. | Vitasys Vitasys, één van de meest innovatieve IT leveranciers van Nederland en Matterport, 's werelds marktleider in levensechte 3D media technologie kondigen met veel genoegen het eerste Matterport bouw- en fotografie evenement aan, dat op 15 oktober in Zwaagdijk-Oost wordt georganiseerd.Bestaande gebruikers van de Matterport Pro oplossing, evenals de Nederlandse bouwindustrie en andere gelieerde, of geïnteresseerde partijen kunnen zich nu inschrijven voor dit evenement.
(beperkt aantal plaatsen).Tijdens het evenement spreken bestaande Matterport klanten en zullen tevens presentaties en demonstraties worden gegeven van de integratie van de Leica BLK360 op het Matterport platform.Vitasys werkt nauw samen met Leica Geosystems en Matterport, waardoor gebruikers de data van de BLK360 en de Matterport Pro2 3D camera kunnen combineren als zij de Matterport Capture App gebruiken. Dit biedt een snelle, eenvoudige oplossing om digitale afbeeldingen en 3D ervaringen te creëren, aan te passen en delen, waar je eenvoudig doorheen kunt navigeren. Door de open structuur van dit evenement is er ruimte om eigen ervaringen en toekomstige workflows te bespreken. Presentaties van Matterport Spaces zijn welkom.Een demonstratie van hoe u Matterport kunt inzetten om de documentatie van bouwprojecten te verbeteren en hoe u uw bestaande projecten transparanter en efficiënter kunt maken, zijn onderdeel van een open discussie.