| | |
| --- | --- |
| City | Enschede |
| Provincie | Overijssel (OV) |
| Datum | 30/08/2019 |
| Uur | 19:30 |
| Categorie | Events |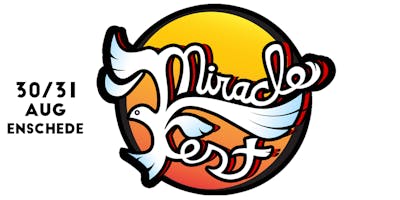 Miracle Fest 30 & 31 AUG @Stadskerk Enschede This weekend is organized by 'Heart to heart' to unite and equip the body of Jesus Christ in Enschede. On Friday we have 'Vision Night' on which we share our vision for the ministries 'The Journey' & 'Heart to heart' and how we can all participate in God's plan for this. On Saturday we'll start off with powerful workshops that are given by Spirit filled teachers to activate you in listening to the Holy Spirit, how to move in the prophetic and how to do power evangelism. In the evening we'll finish with 'Miracle Fest'; introducing the world to the God of miracles.   MIRACLE FEST 'Miracle Fest' is a  miracle / healing service to introduce the world to the God of miracles. Here we will all experience the miraculous power of Jesus.
Maybe you need either physical, mental or spiritual healing, or you might know somebody who needs healing. We invite you to come and bring as many as possible to 'Miracle Fest'. Matthew 15:30 : Then huge crowds of people streamed up the hill, bringing with them the lame, blind, deformed, mute, and many others in need of healing. They laid them at Jesus' feet and he healed them all. Location Stadskerk de Verbinding Haaksbergerstraat 118, 7513 EA Enschede Ticket Price The event is for everyone and there is a FREE entrance. We want as many people to come and taste that the Lord is good. Those who want to give an offering to bless the speaker are free to do so. Mat 10:8 Heal the sick, raise the dead, cleanse those who have leprosy, drive out demons. Freely you have received; freely give.
About Heart to heart 'Heart to heart' (H2H) is an international ministry that has it's purpose to introduce everyone to a heart-to-heart relationship with God and fullfill the purposes of His Heart. For everyone to be transformed into the image of Jesus and live in commuion with the Holy Spirit, to live a lifestyle of intimacy with God and use the gifts he has given well. It has a 'Heart to heart School', organizes workshops & events in the heart of Amsterdam and all over the world. Last month H2H organized a 'Miracle Fest' in Thailand and  in a few months they're planning to organize one in Israel. The H2H workshops are known for activating & transforming people by the love & power of the Holy Spirit.   'We're going from heart to heart, city to city, continent to continent, to connect everyone's heart to God's Heart.'  Program Friday AUG 30  19:00-19:30 Doors open 19:30-22:30  Evening Session: Vision meeting + workshop  Saturday AUG 31 9:30-10:00 Doors Open Morning Sessions 10:00-12:00 Morning Session: Worship & Workshop 12:00-14:00 Lunch break 14:00-17:00  Afternoon Session: Teaching & Workshop 17:00-19:00 Outreach + Dinner Break 19:00-19:30 Doors Open Miracle Fest 19:30-22:30 Miracle Fest (Healing Service)