RMC Meetup: Amadeus Startups Connect
| | |
| --- | --- |
| City | Hilversum |
| Provincie | Noord-Holland (NH) |
| Datum | 12/12/2019 |
| Uur | 14:30 |
| Categorie | Events |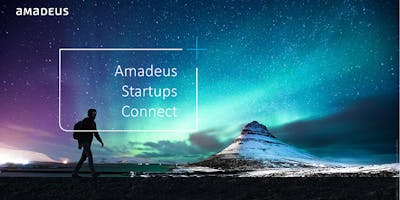 Bent u net een startup begonnen? Wilt u in contact komen met de dynamische en miljoenen reisindustrie? Maar heeft u geen idee hoe en waar te beginnen?Wilt u leren hoe uw startup optimaal kan profiteren van de laatste travel technologie? Kom dan naar de RMC-Meetup Amadeus Startups Connect op donderdag 12 december bij TRAVel Media in Hilversum. Kom in contact met experts welke jou kunnen helpen navigeren door het doolhof van de hedendaagse reisbranche. Hun jarenlange ervaring en inzichten kunnen de fast-track zijn die u nodig heeft om te slagen in deze groeiende sector.Door het Amadeus Startup Connect-evenement bij te wonen, kunt u netwerken en leren van succesvolle ondernemers en digitale experts. U gaat naar huis met waardevolle inzichten over belangrijke trends (evenals valkuilen die u moet vermijden).
De reisbranche biedt een enorm potentieel voor startups die de behoeften van de huidige reizigers begrijpen - dus meld u vandaag nog aan. Onderwerpen welke deze dag aan bod komen;- Amadeus en de online travel trends. - Hoe ondersteunt Amadeus het startups programma?- Hoe reizen online en slim wordt- Hoe een goed design tot beweging kan leiden- Exponentiële technologie En tot slot een paneldiscussie met:Don J. Muschter, CEO Bookyourwellness.com, Rajneesh Badal, CEO Travel with Zoey en Juraj Zlof, CEO Transfer Hero.  Kortom, veel relevante onderwerpen van inspirerende keynote-sprekers. Laten we samenwerken, netwerken en samen leren. Voertaal deze dag is Engels. Waar: TRAVel Media, Arendstraat 19, 1223 RE HilversumWanneer: Donderdag 12 december Inloop: 14.30 uurStart programma: 15.00 uurStart borrel: 17.30 uur --------------------------------------------------------------------------------------------------------------------------- Topic 1: High five: which online travel trends cannot be ignored? [We list 5] How Amadeus supports the startups programme Presented by: Evantia Giumba, Head of Travel Media and Startup Program, EMEA Online In 2018 Evantia leads the Travel Media and Startup Program in Europe, Middle East and Africa for Amadeus Online Travel Channels.
Before assuming her role, over the course of more than 15 years, Evantia developed a deep understanding of how technology can be successfully deployed to serve the needs of the travel industry. This includes the time she spent leading Amadeus' innovation and business development in France. A long-time supporter of smart, sustainable and mutually beneficial collaboration between large enterprises and innovative startups, Evantia is also highly engaged with influential startup incubators and accelerators operating throughout Europe. Thanks to her insights and experience, Evantia is regularly invited to judge startup competitions at major industry events in cities with a thriving startup scene, including London and Paris. Evantia Giumba holds a Master's degree from the University of Dauphine, Paris and she is a graduate of the University of Bucharest, Romania.  Synopsis Travel distribution is facing a range of potentially huge disruptions in the years to come.
What are the trends?Our commitment is to shape the future of travel and support growth in the industry for the start up ecosystem.We've very open to exploring synergies with innovative partners and that includes investing in startups that catch our interest.  Topic 2: How can you benefit from the drive for digital transformation?  Presented by: Manuela Krull-Mancinelli  Manuela Krull-Mancinelli is a. After 15 years of corporate life she founded her own company Krull Smart Solutions in 2011, helping clients during their entire innovation journey. Starting from awareness and inspiration sessions, going through experiments and finally implementing or scaling new business models. Where in operational excellence everything is built around standardizing processes with the idea to reduce errors and increase efficiency, in innovation there is no 'one size fits all'.
Every new idea requires a fresh view on business model, team and market approach. That is what inspires Manuela to work on innovation, with clients such as students & educational institutes, start-ups, mid-size companies, corporates and public sector organisations.  Synopsis In this talk Manuela will dive into the latest technology trends and explain how 'Travel' becomes 'SmartTravel'. 'Smart' typically refers to 'SmartCity'. What is behind this idea and how to become part of it? Is it a free choice or will this happen anyway? What challenges do we face? Listen to the story of digital transformation and innovation in the travel sector. Topic 3: What is design thinking and why does it matter?   Presented by; Diane Nijs is professor Imagineering at Breda University of Applied Sciences Diane Nijs is professor Imagineering at Breda University of Applied Sciences.
Working as a Belgian in the Netherlands, in 2014 she finished her promotion at the Faculty of Economics and Business at Groningen University here in the Netherlands. The title of her PhD-study is, of course, illustrative for the focus in her career: Imagineering the Butterfly Effect: Complexity and Collective Creativity in Business and Policy. Diane is a specialist in Designing for Organizational Emergence. She wrote several books and articles and is a welcomed speaker in many countries on the subject of designing for collective action whether that is in the context of start-ups or the regeneration of long existing business. Synopsis 'How great leaders inspire action' is a great TED talk of Simon Sinek in which he explains the golden circle and the importance of a clear 'WHY' to become an inspiring company. In my own work I now meet many CEO's and organizations who feel very frustrated telling me that they know very well their 'why' but that they still don't become an inspiring organization. In my presentation I will question whether knowing the 'why' is indeed the whole story to become an inspiring organization or platform. I think that GREAT DESIGN is even more important than a charismatic leader. I will show that a powerful, imaginative articulation of the WHY is a crucial ingredient in a 'startup-world' and I will illustrate my point with the case of Youth for Climate. Interactively we will discover how Youth for Climate eventually can evolve into a world-changing platform.    Intro to Ana – Panel discussion  Ana Dias e Seixas, Online Startups Manager,  Europe, Middle East & Africa   Ana was appointed to her current role In October 2018. She helps the vibrant startup community in the Netherlands to grow by connecting them with the global Amadeus travel ecosystem. Ana also works with startups across the region including innovation hotspots such as Amsterdam, Paris, Milan and London. Ana joined Amadeus in 2013, taking responsibility for business development and innovation in the Benelux markets.  Over the years, Ana has developed a wealth of travel industry experience. In 2002 she started her career in travel with IATA, working with European airlines and airports in sales and marketing management roles. Then in 2006 Ana was appointed as Global Marketing Director for both the Eurail and InterRail brands. Prior to joining the travel industry, Ana began her professional career in the automotive industry. She spent a decade in roles that included product, pricing, project management for European markets. Ana has a truly international profile: born in Lisboa, she has lived in 4 different countries and speaks 5 different languages.Ana holds a MBA degree from CIM, UK and she is a graduate of the University of Arts Lisboa, Portugal  Topic 4: Panel discussion  Don J. Muschter, CEO – Owner Bookyourwellness.com 20 years' experience in the travel industry, to a large part as international leisure travel publisher. Having travelled the world, Don has a clear picture about what hospitality should and should not entail. Wellness is of personal relevance to him, knowing that an increasingly stressful and progressively busy life, is daily business to so many of us. Wellness and well-being getaways of quality and expertise, help one to regain a sense of balance and serenity: You-time. SynopsisBookyourwellness.com, launching January 2020, provides the convenient meeting point for those seeking, and those offering, excellent quality wellness breaks. Our global booking portal offers secure, effective and user-friendly search tools to supply wellness lovers, actively seeking for a wellness getaway or treatment program, with all information required to find, select and book their well-deserved break. We work with the latest automation techniques, included of Direct-Connectivity, via partners like Amadeus and Derbysoft. We partner internationally with leading individual wellness centres and hotels, through to global hotel chains. Amongst the latter, the Marriott Group, Intercontinental, Minor and Radisson. Rajneesh Badal. Founder of Travel with Zoey  Rajneesh Badal, Founder of Travel with Zoey and 10 years experience in travel. Has been working on his 2nd start-up in travel, Travel with Zoey, for the past 3 years. Currently moving from start-up to scale-up.SynopsisTravel with Zoey offers a virtual travel assistant via chat that allows companies in travel to increase engagement with travelers in a highly personalized way during the trip and also after it. Leading to higher levels of customer satisfaction, product quality, retention and revenue. Juraj Žlof, CEO Transfer Hero B.V Born and raised in Zagreb, Juraj Žlof has a masters degree in Agriculture and Rural Development from the University of Zagreb. He was the club president of the first American football team in Croatia, known as Zagreb Thunder, for five years. He has worked in recruitment, retail and the tourism industry, and began working with startups in 2017. He went through several accelerator programs, including Startup bootcamp Insurtech in London, Startup bootcamp Smart City and IOT in Amsterdam, Startup Factory in Zagreb, Croatia and ABC in Ljubljana, Slovenia. Juraj  is the founder of GrowthFix, an "idea to traction" consultancy, as well as TransferHero, a start-up offering environmentally sustainable airport transfers.  Synopsis TransferHero story:  "A greener planet is only a ride away" and "For every trip you take we plant a tree." Topic 5: What are the general effects of exponential technology on everyday life and what we can expect in the near future? Presented by: Bobby Bahov, Co-Founder AILAb.one Bobby is a tech entrepreneur with a diverse background and knowledge with passion for exponential technologies and their effect on everyday life, business, and industries. His focus areas are Artificial intelligence, Digital Transformation, and Space exploration. Synopsis Bobby will talk about the general effects of exponential technology on everyday life and business and what we can expect in the near future.  Topic 6: Is the law a friend or foe of innovation? Presented by: Marisa Monteiro Borsboom, Lawyer Portuguese Lawyer and member of the European Lawyers Bars (CCBE,Data Protection Officer, Mediator, Trainer and Contract Manager, and legal innovation consultant are the core roles of her career . Based in the Netherlands and Oporto,is the Founding Partner and General Counsel (CLO) of MQM Legal.President of 'Humanity of Things – Digitech Literacy Association '.Founder of '
[email protected]
– institute for legal innovation and technology in Portuguese 'Director and founder  of the Portuguese chapter of ELTA – European Legal Tech Association.Co-founder and coordinator of the Oporto and The Hague Legal Hackers chapters. Synopsis Is Law a friend or foe of Innovation?  Complete program:  14:30 Registration and Networking 15:00 welcome  TJ (TravMag & RMC), Ana (Amadeus & Agenda) – Manuela (Introduce as moderator)15:10 High five: which online travel trends cannot be ignored? [We list 5] How Amadeus supports the startups programme, Evantia, Amadeus 15:30 How can you benefit from the drive for digital transformation?, Manuela, Krull Smart Solutions 15:50 What is design thinking and why does it matter?, Diane Nijs, BUAS  16:15 Networking Break16:30 Panel Discussion with startups CEO`s, Ana, Amadeus 16:50  What are the general effects of exponential technology on everyday life and what we can expect in the near future?, Bobby Bahov, Co-Founder AILAB.one17:10 Is law a friend or foe of innovation?, Marisa Monteiro Borsboom, Lawyer17:30 Wrap up, Manuela and network drink18:30 End