SAFe 5.0 Scrum Master® (SSM)
| | |
| --- | --- |
| City | Vianen |
| Provincie | Utrecht (UT) |
| Uit | 06/01/2020 |
| De | 07/01/2020 |
| Uur | 09:00 |
| Categorie | Events |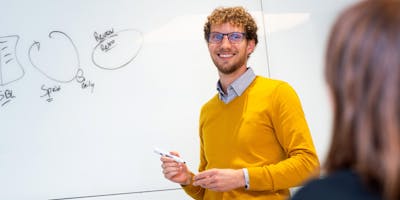 Course Description In this two-day course, attendees will gain an understanding of the role of a Scrum Master in a SAFe enterprise. Unlike traditional Scrum Master training that focuses on the fundamentals of team-level Scrum, the SAFe Scrum Master course explores the role of the Scrum Master in the context of the entire enterprise and prepares attendees to successfully plan and execute the Program Increment (PI), the primary enabler of alignment throughout all levels of a SAFe organization. This includes learning the key components of Agile at scale development, how Scrum is facilitated throughout the enterprise, and how to execute Iteration Planning. Duration training  2 days. Suggested sizing  15 - 30 participants. Target audience  New Scrum Masters who need to perform the role.
Existing Scrum Masters who would like to understand their role in the context of a SAFe enterprise. Team Leads who want to understand the Scrum Master role. SAFe Release Train Engineers who want to coach Scrum Masters on their role. Course outline  In this training, the following topics are covered: Introducing Scrum in SAFe. Characterizing the role of the Scrum Master. Experiencing Program Increment planning. Facilitating Iteration execution.  Finishing the Program Increment. Coaching the Agile team. What participants get? Training at a beautiful external venue in Utrecht Lunch, coffee, tea, soft drinks and refreshments throughout the day Attendee workbook. All training materials, including the famous Accenture Poker Card Set. Preparation and eligibility to take the SAFe® 4 SSM exam.
SAFe SSM certification upon passing the exam. One-year membership to the SAFe Community Platform. Course certificate of completion. Learning Objectives  By the end of the course successful learners will be able to:  Apply a wide array of techniques practiced by professional facilitators. Design collaborative meetings that leverage team interaction to achieve outcomes. Apply techniques for skillfully facilitating core Agile meetings. Gain alignment on purpose and generate collaboration to deliver superior outcomes. Identify and address dysfunctional behaviors and approaches to conflict that prevent teams from achieving maximum success. Apply the four key Skill Areas and four Knowledge. Areas from Agile Coaching Institute's Agile. Coaching Competency Framework.
Create healthy teams that are resilient, creative, resourceful, and resonant. Listen fully and ask essential, powerful questions that open up new possibilities and propel people into action. Distinguish between coaching and mentoring and know when to apply each most successfully. Coach and mentor people through all kinds of change, especially the change required to fully occupy Agile roles. Identify approaches for positively affecting the broader organizational context and culture. Organize and begin using a self-improvement backlog focused on thoughtful and tangible personal growth. Why Accenture Academy? We are Golden Partner of Scaled Agile and have a global network of certified SAFe trainers, coaches and implementation experts. Get Hands-On with our Agile Experts.
Learn by doing. Our trainings allow you to get hands-on with seasoned Agile practitioners, who have more than a theoretical understanding of building Agile enterprises but know what works and what doesn't.