Seaside Yoga & Meditation Retreat with Iryna & Kremena
| | |
| --- | --- |
| City | Middelburg |
| Provincie | Zeeland (ZE) |
| Uit | 08/11/2019 |
| De | 10/11/2019 |
| Uur | 18:00 |
| Categorie | Events |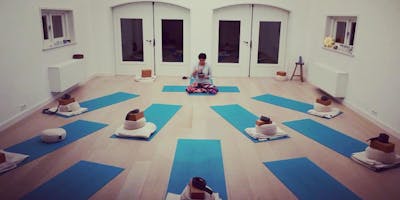 The Seaside Yoga & Meditation Retreat is your time and space to relax, discover your inner calm and peace of mind through yoga, meditation and mindfulness. All in the luxurious setting of the Yogabee retreat centre with sauna and swimming pool. A short walk away from the beach and the nearby charming village of Domburg. Program Every morning will begin with an energizing Vinyasa/Strala yoga flow for a fresh start of the day followed by a nutritious breakfast. Afterward, you will have time to relax – go for a beach walk, a swim in the pool or unwind in the sauna. We'll get together for a delicious warm lunch, followed by an immersion into Mindfulness workshop. Before dinner, you can join a restorative Yin yoga session with Hatha Pranayama breathing and a focus on releasing muscle tension and opening your chest and shoulder area.
We will end the day with a delightful vegetarian dinner and if you like a glass of wine, and a guided meditation session for a good night sleep. Fun, experienced and passionate Iryna and Kremena will guide you in yoga, meditation and mindfulness practice. They will take you on a spiritual journey into yoga philosophy, ancient techniques of Hatha Pranayama breath and Mindfulness techniques for a more aware, happy and fulfilled daily life. Location You will be staying in the beautifully renovated, modern and luxurious Yogabee retreat center, just outside of Domburg in Zeeland. The house has eight spacious two-person bedrooms with comfortable (separate) beds, an inside heated swimming pool, sauna, yoga studio, big kitchen and a cozy living room. The vegetarian meals will take place at the long table in the kitchen with views of the garden.
The spacious yoga studio has French windows with a panoramic view overlooking the meadows. With a little luck, you might see a deer come by during yoga practice. Retreat price includes: 4 yoga sessions (active Vinyasa/Strala flow or restorative Yin yoga) 2 guided Meditation sessions 1 "Immersion into Mindfulness" workshop 2 nights in the luxurious Yogabee retreat centre (bedding and towels are available) lovingly prepared soulful, healthy meals (breakfast, lunch and dinner), accompanied by some delicious wine (in the evening) energy replenishing healthy snacks with coffee or tea during the day free use of the swimming pool and sauna Limited spots available.