| | |
| --- | --- |
| City | Amsterdam |
| Provincie | Noord-Holland (NH) |
| Uit | 18/10/2019 |
| De | 19/10/2019 |
| Uur | 23:00 |
| Categorie | Events |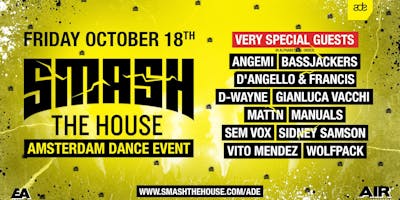 Smash the House are due to throw their own special party as part of the annual Amsterdam Dance Event, more commonly known as ADE, held in the Dutch capital during October. The event itself will take place on the 18th October in the renowned nightclub AIR Amsterdam. The line-up already boasts an impressive number of artists to include Angemi, Bassjackers, D-Wayne, Gianluca Vacchi, D'Angello & Francis, MATTN, Manuals, Sem Vox, Sidney Samson, Vito Mendez and Wolf Pack.As if this wasn't enough, there will be a further surprise instore for fans with the announcement of some Very Special Guest performances in due course. Since its inception in 2010 Smash the House has rapidly forged a reputation as one of the major players in recent dance music history. Now well into its 8 th year and continuing to surge out independent and cleverly crafted releases, the Smash the House imprint has gained popularity for consistently delivering top quality dancefloor bangers, with current #2 Top 100 DJ's Dimitri Vegas & Like Mike at the helm.
This is reflected in the label continued hit success rate. ADE, is one of the biggest events in the electronic dance music world, consisting of a conference and night-time festival held over 5 days. Attracting over 400,000 visitors across its duration the event has over 2,500 artists performing in 140 of Amsterdam's finest nightlife spaces. It's widely recognised as a global meeting point for those in the electronic dance music scene. Teaming up with E&A Events, one of the leading event organizers in The Netherlands, this event is likely to sell out quickly. GENERAL INFORMATIONEvent: Smash The HouseDate: Friday October 18th, 2019Times: 23.00 – 06.00 Minimum Age: 18+ LINE UPVery Special GuestsAngemiBassjackersD-WayneD'Angello & FrancisGianluca VacchiMattnManualsSem VoxSidney SamsonVito MendezWolfpackTICKET INFOLimited Early Bird Tickets: €25,00 ex feeRegular Tickets: €30,00 ex feeLate Bird Tickets: €35,00 ex fee