Social Media Filtering & Verification of social media
| | |
| --- | --- |
| City | Haarlem |
| Provincie | Noord-Holland (NH) |
| Datum | 04/09/2019 |
| Uur | 10:30 |
| Categorie | Events |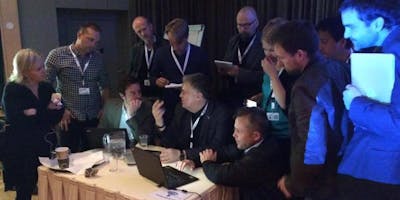 Organisations who do public interest work, are hit hard by the big changes in open source intelligence tools, especially LinkedIn, Twitter and Facebook. This workshop/bootcamp helps you to survive "The Day After" and helps you to maximize your  research results in filtering social media. The workshop in Amsterdam is open for news media, police, law enforcement, NGO's, human right watchers - so everyone who is working in the interest of the general public.  Open source intelligence (OSINT) investigators lost some of their best tools, see the interviews I gave to NBC, Buzzfeed, ABC News and VICE. This workshop shows you what is still possible with some creative thinking and editing links in the tools that now fail on you. The course is very practical and hands on.
We'll work with some amazing, real cases that seem impossible to solve at first.  So what will you learn? Filtering of social media & how to verify social media. How to strategically rephrase your research question into the rigid logic of Facebook, LinkedIn and Twitter. The workship location is in a hotel near the airport Schiphol. You can fly in and get a free shuttle bus to the workshop location. If you want to stay overnight (1,2 or 3 nights), we offer a great rebate on the hotel, just click on Tickets for an overview. Program1. LinkedIn How to use LinkedIn hidden language How to validate if a email adress belongs to a LinkedIn memberHow to find zipcodes in an LinkedIn profileHow to bypass other restricitons without being illegalHow to find people who live in smaller places (not allowed by default)What amazing things can happen in closed groups of professionals 2.
Twitter Lessons to be learned about what eye witnesses (mostly) sayHow to get an idea of who is behind a completely deleted Twitter profileSophisticated filtering: get rid of media, find only primary sourcesHow to establish which email-adress belongs to whom in Twitter.3. FacebookHow to get some of the old functionalities backHow to research postingsHow to build your own formula'sHow to search Facebook Local and Facebook Ads and why is it important? 4. CASES:        How to use social media to find suspects in a murder case     How to use social media to find the unknown face behind a dubious mining company     How to find a fugitive criminal via Instagram     Finding out who is behind a Telegram account 5. How to geolocate and verify people with the Bellingcat method.
6. How to monitor social media on your tablet or phone without leaving traces Is there something as a free lunch? Yes. Course includes three course buffet lunch in Restaurant Romeo during noon break Are there any requirements to enter the event? Yes, your work must be in the public interest What is the difference between this and your July 10th event? The difference between is that we will look at filtering of social media, not just Facebook. It will also deal with verification of social media. About 20% of this course is the same as July 10th event.Do I need something to bring with me? Yes, you need a fully charged computer, your charger. If you have a tablet, bring it along too for "How to monitor social media on your tablet or phone" Do I have to install software? Maybe, we will notify you before the event.
Can you arrange a hotel near the workshop area? Yes, we've got you 10% off the normal hotel price. You can choose  1,2 or 3 days - no need to leave Amsterdam when you're done with the workshop :)