Soft Skills Hub - 6 Week Course (The Hague)
| | |
| --- | --- |
| City | The Hague |
| Provincie | Zuid-Holland (ZH) |
| Uit | 23/10/2019 |
| De | 27/11/2019 |
| Uur | 18:30 |
| Categorie | Events |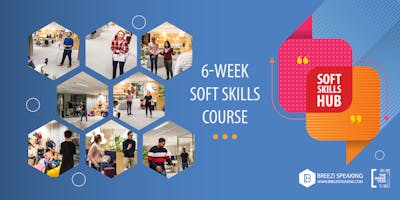 Soft Skills Hub is Back. We invite you to take part in the 2nd edition of Soft Skills Hub in The Hague. Join a community of like-minded people and improve your soft skills through practical methods in a safe and supportive environment.  Starting from 23rd of October, for 6 weeks, we will gather every Wednesday at the most vibrant environment in the city (The Hague Tech) and practice some valuable skills together. Are you ready to take on the world? Soft Skills Hub is designed for anyone who wants to launch a successful career or take the next step in their career growth. In these 6 weeks we will cover: Prioritisation Dealing with fear of public speaking Negotiation / Persuasion Creating an impeccable presentation Networking Using advanced public speaking techniques *The exact order of the course will be announced later.
Confidence on the go. It is the core objective of this course to cultivate confidence and ability in everyone. At Soft Skills Hub, you will have all the tools needed to grow as a professional who can handle a wide range of situations.  Not Peer-to-Peer & Not Trainer-to-Trainee. There have been 2 forms of trainings in the past. Peer2Peer (P2P) whereby experienced people share knowledge and tips with new-comers and the traditional Trainer2Trainee. There are pros and cons with both. While P2P is for affordable, there is really no quality assurance. On the other hand, T2T provides standard quality at a very expensive price.  Then How? At Soft Skills Hub, we have created an educational environment that takes the best of both worlds. While we have short training sessions each week, you will also actively give and receive feedback from your peers.
This creates a super friendly and supportive environment where everyone can flourish.  Explanation of packages Full Course (6 Trainings): All the trainings have been carefully selected after years of experimentation. We designed in such a way that they benefit every ambitious student, young professional or professional in career transition. We highly recommend you go for the Full Course (6 Trainings) not just because you will get exposure to lots of different trainings, but you will also save a whole lot when you signup for the full course. Half Course (4 Trainings): Do you just want to focus on a few topics within the course? Consider investing in Half Course (3 Trainings). You can handpick the 3 Trainings you'd like to attend. You will still have a sweet saving.
Just be sure to tell us which 3 courses you'd like to signup for. Single Session (1 Training): You're highly interested in a single topic? You want to check out a training before making a decision on the Full/Half Course? or Only have budget for a single training? Don't worry, select the Single Session (1 Training) option. You can choose a Training which you think will help most and let us know your choice after you've completed the reservation.  Want to convince your company or parents to pay for your Trainings? Contact us for support material. View the proposal in PDF Got a question? If you have any questions, send an email to
[email protected]