| | |
| --- | --- |
| City | Hilversum |
| Provincie | Noord-Holland (NH) |
| Uit | 16/01/2020 |
| De | 18/01/2020 |
| Uur | 09:30 |
| Categorie | Events |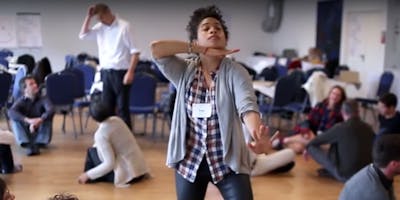 Drawing on the arts and contemplative traditions, Social Presencing Theater brings to the surface a clearer sense of the relationships, hidden dynamics, and emerging possibilities inherent in a team, organization or larger system. It allows co-creators in a given system to gain insight into the current situation, seeing potential opportunities for change. It sets the ground for creative collective action.  "Theater" here denotes an empty stage or a blank canvas where the different aspects and roles of the system can be embodied. In that space, the roles can interact in fresh and creative ways to reveal emerging possibilities hidden in the system. It is "the art of making a true move."The progam has 2 parts and 3 options how to participate: Part 1 Social Presencing Theater; The Basics.
A 2 day program with the introduction into the basic practices of Social Presencing Theater.     Part 2 Social Presencing Theater; Intensive in 4D Mapping; This part of the course is the follow up, a one day deepening of the practice of 4D Mapping, with focus on cases and practice . Participants will apply 4D Mapping methods to specific personal and leadership challenges and zoom in on when, how and why to use it.Options to join: Apply for only Part 1 (2 days) Apply for the whole program (3 days) Apply for only Part 2 (1 day) This is possible if you already participated in another SPT program.  All options include lunches. It is possible to stay at the venue for dinner and/or bed/breakfast. After registration you can arrange your accomodation directly with the venu.