Tony Robbins Business Mastery 2020
| | |
| --- | --- |
| City | Muiden |
| Provincie | Noord-Holland (NH) |
| Uit | 18/06/2020 |
| De | 22/06/2020 |
| Uur | 09:00 |
| Categorie | Events |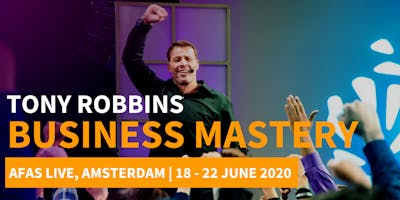 Lead Your Business Effectively, Efficiently and Profitably to Thrive in Any Economic Time  Business Mastery Amsterdam is a 5-day live event that is part of a 10-day program with Tony Robbins where you can expect to grow your business 30-120% in the next 12 months. Devised by world-renowned business leader Tony Robbins and developed with some of the brightest business minds in the world, the Business Mastery Program is founded on the principles of the Seven Forces of Business Mastery which allowed thousands of businesses to thrive despite one of the worst economies in history. As always, admission to Business Mastery is extremely competitive. But if you're accepted, you can expect to grow your business 30 - 120% in the next 12 months. DAY 1 What is your X Factor, or ultimate competitive advantage? Your ability to add intangible value – or value that goes beyond measure – is the secret to unstoppable success.
On day 1, you'll identify your X Factor and learn the "7 Forces of Business Mastery," which are designed to help companies and brands, just like yours, avoid failure by constantly evolving, improving and adding value. Tony will strategically break down the innovative approaches industry leaders like Apple, Zappos, American Express and Facebook have used to achieve massive results. The foundation for all businesses is to create a map, not a plan – and a map is only valuable if you know where you are. You'll ask yourself 5 questions that will help you create your own business map, which will guide you from where you are, to where you want to be while giving you the flexibility to anticipate and capitalize on change. When you can use business innovation to successfully adapt to changing conditions, you'll be in a better position to help your business grow.
DAY 2 The most successful businesses are those that have a plan to continually improve and optimize the core areas of business. Sometimes, the biggest growth opportunities don't come from new initiatives, but rather from taking core processes the business is already doing and executing them more effectively. You must critically analyze what's really going on, and inspire your team to participate in the process. When done successfully, this can transform the impact and profitability of your business geometrically. On day 2, Tony will teach you how to fully evaluate your business strategies in order to find new growth opportunities, and show you, step by step, how several companies have optimized just a few key areas and achieved geometric growth. Through a hands-on workshop using numbers from your own business, you'll dissect your processes with the aim of creating a specific, actionable and massively effective plan for optimizing your business.
DAY 3 Does the word "accounting" make you want to run for the hills? It shouldn't. Unfortunately, the reason why so many businesses owners struggle is because they don't have a clue where their business stands. Accounting is an essential part of your business, and is no more complicated than learning to read the report card, or scoreboard of your business. Your scoreboard gives you optics, and optics allow you to develop an effective strategy. On day 3, accounting expert Keith Cunningham takes you on a financial deep dive, showing you how to look at your financial reports and instantly know what to prioritize and what to change to massively increase your financial performance and sustainability. DAY 4 What does it mean to be financially free? Does it mean freedom from having to work, yet still being able to enjoy life without concern over money? Does it mean having your life's basic costs covered, where you're not worried about making car or house payments? On day 4, we'll take a deeper look at what it means to you to become financially free, and how you can make financial freedom your reality.
Every day you're being robbed by inefficient processes that slow your company down and keep you from delivering the value to your clients that would otherwise make them raving fans. We'll take a long, objective look at your organization's value chain, find the weak links and, along with Tony and your peers, develop novel solutions for mending them. DAY 5 On day 5 you will hear from negotiations expert Jeff Cochran, who will show you how to increase confidence and results in your business negotiations, close more deals with better margins, and develop deeper business relationships to improve your bottom line. You will also hear from one of the world's most successful and impactful business strategists, Jay Abraham, who will work directly with the audience to pinpoint business growth issues, and create a multitude of solutions in his famous rapid-fire style.
"I've designed this program to inspire, educate and unite you and your team to meet the challenges of economic change and reinvent yourself in a dynamic marketplace." – Tony Robbins Learn Tony Robbins' Strategies working alongside some of the brightest business minds in the world Keith J. Cunningham (Speaker, Author, Businessman & Entrepreneur) Regarded as one of the foremost authorities on financing, investing, negotiating and business strategies Keith Cunningham is a successful Texas entrepreneur with more than 40 years' experience, who has launched numerous highly profitable businesses, negotiated hundreds of million-dollar-plus deals, and has raised and structured more than $1 billion of financing for his business ventures. Interestingly, Keith is the inspiration for Robert Kiyosaki's book "Rich Dad, Poor Dad". "In a word; EFFECTIVE. Keith's teachings are immediately impactful and full of insight. Anyone who spends five minutes with him realises this. I highly recommend him. " Charles A. Lewis, Vice President, Business Development at The Castle Group,LLC "Keith gives you the skills and tools to achieve the success in your business that most seminars and speakers only talk about – You learn from a master that teaches what he experienced. If you want to be GREAT you can't afford not spending time with Keith." Nicolai Moltke-Leth, Denmark   Jeff Cochran Jeff Cochran has coached negotiation teams within organizations and has delivered high impact presentations from 45 minutes to three days in length. Jeff creates customized programs are relevant to participants and simulations that are challenging and have the right amounts of education, reality, and levity. Jeff acts as a live negotiations consultant during the day of facilitation, offering opportunities for program participants to tackle current issues that may lend themselves to an even deeper level of application of the principles. Jay Abraham Listed by Forbes as one of the top 5 executive coaches in the USA Founder & CEO of The Abraham Group, Jay is recognised as one of the world's most successful and impactful marketing strategists, business innovators, entrepreneurial advisors/mentors, and masters of "revenue and performance enhancement and acceleration." He has spent the last 25 years solving problems and significantly increasing the bottom lines for over 10,000 clients in more than 400 industries worldwide. "Jay is a genius. He's a very, very special man. He's the one who taught me to fall in love with my customers – not my products and services." Tony Robbins, Entrepreneur, author, peak performance strategist "Jay Abraham is one of the greatest business and marketing minds I've ever known." Stephen R. Covey, Legendary Business Guru