Visual Trumpery Tour in Amsterdam by Alberto Cairo
| | |
| --- | --- |
| City | Amsterdam |
| Provincie | Noord-Holland (NH) |
| Datum | 13/05/2019 |
| Uur | 16:30 |
| Categorie | Events |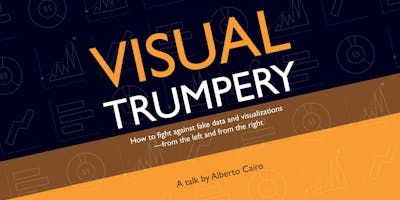 ABN AMRO and Nova Silva are proud to announce that Alberto Cairo and his "Visual Trumpery: How Charts Lie and How They Make Us Smarter" is coming to Amsterdam on Monday May 13th.  Is this lecture about politics? No, the English word "trumpery" means worthless nonsense, something that is showy and deceitful at the same time. Trumpery can occur in text, verbally, or visually. This non-partisan talk focuses on the visual, examining misleading charts, graphs, and data maps designed by individuals and organizations from all over the political spectrum.Prominent visualization specialist Alberto Cairo will share the most effective ways to use graphs, charts, maps and infographics to enable a more comprehensive and informative message to your audience. Aimed at a broad audience, Cairo's presentation attempts to help build a literate citizenry, which he believes is the best antidote for nonsense.Alberto Cairo is the Knight Chair in Visual Journalism at the University of Miami.
He's also the director of the visualization program at UM's Center for Computational Science. He has been a director of infographics and multimedia at news publications in Spain (El Mundo, 2000-2005) and Brazil (Editora Globo, 2010-2012,) and a professor at the University of North Carolina-Chapel Hill. He's the author of the books The Functional Art: An Introduction to Information Graphics and Visualization (2012) and The Truthful Art: Data, Charts, and Maps for Communication. All admission fees (excluding the cost for using eventbrite) will be donated to the International Tree Fund (www.ITF.nl). The International Tree Fund (ITF) is a Dutch volunteer organisation aiming for the conservation and management of tropical forests. ITF also stives to increase the well-being of people who live in these tropical forests.
The volunteers of ITF occupy themselves with fund raising for projects in the tropical forests including support for the original indigenous cultures. The ITF supports, with the aid of donors, small-scale projects in Central America (Costa Rica, Guatemala, Nicaragua and Honduras).