Weekend Workation - How to make flexwork work
| | |
| --- | --- |
| City | Alkmaar |
| Provincie | Noord-Holland (NH) |
| Uit | 24/05/2019 |
| De | 26/05/2019 |
| Uur | 09:00 |
| Categorie | Events |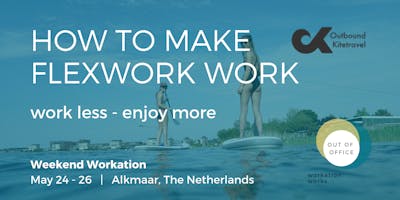 Working from anywhere, anytime gives us so much freedom. Or … not?. Let's find out how to be productive AND enjoy the perks of flexwork. We offer daily workshops about focus, setting goals and the balance between work and leisureIN A NUTSHELLWorkation weekend "How To Make Flexwork Work" Alkmaar, Netherlands24th - 26th May 2019 - DAY PASSES AVAILABLE. English Cozy shared accommodation at Alkmaar city centreWorkshops, good healthy food and a lot of leisure activities to relax and enjoy together. Weekend Pass from €95,- without accommodation / €165,- with accommodation | Day Pass from €35,- Contact us for more info.
[email protected]
OR
[email protected]
IS IT ABOUT?Join us in Alkmaar for a weekend of networking, workshops, fun activities and healthy food.
This Weekend Workation brings together people who'd like to meet like-minded flex-workers. It's also for everyone who wants to get a taste of remote work life. And it's a great opportunity to experience what it's like to go on 'workation'. With the freedom of working more flexibly comes responsibility. We have to manage how much we work – and when it's time to stop. Is it possible to work less hours and still be more productive? How do other flex-workers do it? What can we learn from each other?Het Nieuwe Warenhuis and SOEPP are wonderful places in the heart of Alkmaar. We spend a weekend there together, inspiring and helping each other. Experienced flexworkers give tips on how to structure your work time, and how to focus and set goals, so you can enjoy the perks of flexwork more.
You can share with the group what you are struggling with, we exchange best practices and work on practical solutions.On top, we practice the fun part - how to regularly take breaks, try out hobbies that energize you and help to switch off, enjoy healthy food and conversations with like-minded people. We offer guided city walks, yoga, SUP, wakeboarding and kitesurfing - find out what recharges your battery. --AGENDAFriday - WORK:9:00 - 16:00 Coworking at CoWorking space Het Nieuwe Warenhuis* - come as you please12:00 - 13:00 Learning Lunch at Het Nieuwe Warenhuis (HNW): "Kill your darlings: Keeping the focus"14:00 - 16:00: Leisure: recharge & network. City walk or SUP in Alkmaar16:00 - 18:00 VriMiBo (pre-weekend drinks) at HNW19:30 Vegetarian dinner at SOEPPSaturday - GET THE BALANCE:8:00 - 9:00 Yoga or Fitness (self-guided)8:30 - 9.30 Yummy breakfast at SOEPP*9:45 - 12:00 Morning workshop at HNW: How to make flexwork work.
Work less, enjoy more. 12:00 - 13:00 Lunch break13:00 - 18:00 Afternoon activities.City walk and festival visit or SUP* in Alkmaar,kitesurf, kite introduction* or walk at the beach19:30 Healthy dinner in Alkmaar Sunday - ENJOY:8:00 - 9:00 Yoga or Fitness (self-guided)8:30 - 9:30 Yummy breakfast at SOEPP*9:45 - 11:30 Morning workshop: Goals and actions: how to set achievable goals11:30 - 17:00 Leisure activities (incl. lunch)Wakeboard*, SUP* or chill at lake,Kitesurf, kite introduction* or walk at the beach--WHAT DOES IT COST?Try out a real workation. Stay with us in the heart of the city of Alkmaar. There are two cozy B&B rooms available directly at SOEPP (first come first serve). We have additional beautiful apartments in Alkmaar available to share among the workation participants.
More info on request.Weekend Pass + 2 nights in shared room / apartment with single or double beds:€165,- per person, shared with 4pax€180,- per person, shared with 3pax€210,- per person, shared with 2pax€95,- Weekend Pass only (no accommodation)€45,- Day Pass Friday€55,- Day Pass Saturday€35,- Day Pass Sunday*EXTRA ACTIVITIES TO BOOK - Coworking day-pass at HNW: €15- Coworking 1/2 day-pass at HNW €7.50- Breakfast at SOEPP- SUP: 2h, €35 incl. wetsuit and instruction- Wakeboarding: 2h, €50 incl. wetsuit and instruction- Kitesurfing: 1,5h Intro course (with trainer kite) by iko certified instructor: €55 (groups of 2-4); 1h beginner lesson (incl. wetsuit and lesson by iko certified instructor): €60 (groups of 1-2)--HOW CAN I SIGN UP?Book directly here or find even more options on the Out of Office Workations website https://workation.works -- WHAT ARE THE BOOKING TERMS? By booking you agree to Out of Office Workations General Terms & Conditions and Outbound Kitetravel General Terms & Conditions.
For this offer, the following booking terms apply: Payment: You purchase your DAY PASS, WEEKEND PASS or ACCOMMODATION INCLUDING WEEKEND PASS directly here on our website. This booking is binding. No VAT is added to this booking (VAT = 0%), as VAT scheme for travel agents applies (reisbureauregeling). Cancellation: In case you need to cancel your participation, please inform us as quickly as possible. We will then inform you about potential refund. You may also transfer your booking to a person who replaces you. In that case, please inform us about the name change. One name change is free of charge. Refund: 100% refund of the booking price in case of cancellation before 24th of April 2019. From 24th of April we are not obliged to refund the booking price. We will however see whether there's a possibility for a partial refund or to transfer your ticket to another participant. Liability & Insurance: Participation in the weekend workation is at your own risk. Please inform us if you have any condition that we may need to consider when planning and guiding activities. We strongly advise to obtain suitable insurance beforehand. We're happy to answer any related questions. No liability can be accepted for lost or damaged personal property such as clothing, watches, cameras, etc. If they are taken with you, it will be at your own risk.