Workshop: Basis lastechniek
| | |
| --- | --- |
| City | Veldhoven |
| Provincie | Noord-Brabant (NB) |
| Datum | 09/11/2019 |
| Uur | 12:00 |
| Categorie | Events |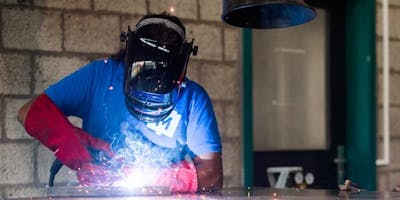 *** English below *** Workshop: basis lastechniek Deze workshop wordt aangeboden in het Nederlands en het Engels. Wil je de vonken er vanaf laten spatten? Je kan nu bij Microlab Eindhoven in 3 uur de basis van het MIG/MAG-lassen leren. Onder begeleiding van een specialist, leer je het volgende: Basistechnieken Omgaan met het MIG/MAG (co2) lasapparaat Afbramen en slijpen Een mooie las maken Het materiaal is aanwezig op de werkplaats, net als koffie, thee en koekjes. Voor specifieke veiligheidsmiddelen zoals lashandschoenen en een laskap wordt gezorgd; jijzelf moet zorgen dat je brandveilige kleding draagt (wel katoen of wol, geen nylon). De workshop gaat door bij tenminste vier inschrijvingenAls we 48 uur voor aanvang van de workshop minder dan 4 inschrijvingen hebben, hebben wij het recht om de workshop te annuleren en jou te vragen een nieuwe tijd te kiezen.
Heb je een Groupon Coupon voor deze workshop?Vul dan bij het reserveren van de datum je Groupon code in. Mocht dit niet lukken, neem dan contact op met:
[email protected]
  ***Categorie*** Creatieve skills  ***Tags*** #lassen #lerenisleuk ***Prijs*** €150 *** English *** Workshop: basic welding techniques This workshop is offered in Dutch and English.  Do you want to let the sparks fly? You can now learn the basics of MIG / MAG welding at Microlab Eindhoven in just 3 hours. A specialist will guide you through the process of learning Some basic techniques How to handle the MIG / MAG (co2) welding machine Deburring and grinding techniques? how to make a nice weld We take care of the materials (and of course coffee, tea and cookies.) such as specific safety equipment like welding gloves and a welding hood.
The only thing you need to do is make sure you wear fireproof clothing (cotton or wool, NO nylon). Note: The workshop only takes place with a minimum of four participants. If there are not enough participants 48 hours before the start of the workshop, we have the right to cancel the workshop and ask you to choose a new time. Do you have a Groupon Coupon for this workshop? Enter your Groupon code when reserving the date.  Need assistance? Please contact:
[email protected]
***Category*** Creative skills ***Tags*** #welding #funtolearn ***Price*** € 150