Beat Procastination + Launch Your Startup!
| | |
| --- | --- |
| By | Bergen |
| Provinsen | Hordaland (12) |
| Dato | 12/10/2019 |
| Timer | 19:00 |
| Kategori | Events |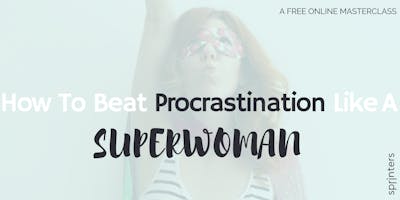 FREE MASTERCLASS FOR FEMALE ENTREPRENEURS ON HOW TO REWIRE YOUR BRAIN AND OVERCOME PROCRASTINATION LIKE A SUPERWOMAN. ** THIS IS AN ONLINE MASTER CLASS ON SUNDAY 20 OCTOBER ** pro cras ti na tion noun THE ACT OF DELAYING OR POSTPONING SOMETHING THE TWIN SISTER OF PERFECTIONISM THE BANE OF OUR EXISTENCE Sound familiar? How you ever felt that you ... Just can't force yourself to start an important activity? Can't resist temptations that draw you away from work? Find excuses for a project delay, your business or anything else? Feel like you're not good enough to get started right now? If you answered yes, this Masterclass is for you. We have prepared a Masterclass that will help you learn how to fight procrastination - intentionally postponing tasks and responsibilities.
If you have ever had trouble persuading yourself to do the things you should do or would like to do, you have experienced procrastination. Learning how to overcome it is, therefore, one of the most important skills you can master for your success. If we approach the year-end it's time to address some of the habits that are holding us back, so we can enter the new year with a handle on some of our self-sabotaging behaviors. You owe it to yourself to grow personally, develop your life skills and have the best year of your life. My goal is that you leave this workshop with the knowledge to overcome procrastination and eventually build action taking habits. Our hands-on Masterclass will provide you with the tools that will allow you to train your willpower and help you significantly reduce the amount of procrastination.
NOTE: This Masterclass is scheduled on the FREE sprinters online community. "Vision without action is a daydream, action without vision is a nightmare." - Japanese proverb. WHAT WE'LL LEARN How to overcome inherent and learned tendencies to inefficiencies and bad habits? How to resist temptations that distract us from the essential? How to start building positive habits and how to eliminate the bad ones? How to manage time and tasks so that we achieve more things without getting tired? How to consciously leave our comfort zone and overcome our fears? 10 tangible tools for managing procrastination HOW WE'LL LEARN An interactive LIVE MASTERCLASS ONLINE Juicy worksheets to help you take the content and apply the tools in your life WHAT YOU GET Meet like-minded individuals Safe and non-judgmental space Interactive Discussion Worksheets to keep you focused and on track "While we've washed our time and postponing, life is slipping away." - Seneca ** BONUS ** This Masterclass is scheduled on the FREE sprinters online community where you get access to over 50 free tools, resources, templates, videos to fast track your business.
This sounds awesome.  How can I join? An invitation will be sent out to you within 48 hours of your registration. If you can't wait until then .. COMPLETE YOUR MEMBERSHIP REQUEST HERE. THIS IS A LIVE ONLINE MASTER CLASS ON SUNDAY 20 OCTOBER.
Bergen
Provinsen Hordaland