Heaven Calls with Rometris and L.A. Medium Colby Rebel in Arendal
| | |
| --- | --- |
| By | Arendal |
| Provinsen | Aust-Agder (09) |
| Dato | 07/06/2020 |
| Timer | 16:00 |
| Kategori | Events |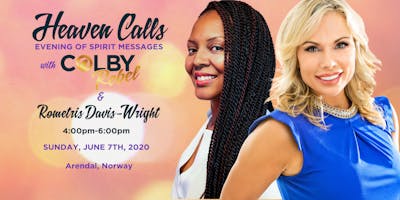 ***Tickets will sale fast so get your seats early***We invite you to join us for a remarkable evening of Spirit Messages with Inspirational Medium, Rometris and LA's most sought after medium, Colby Rebel.Rometris is an Inspirational Medium,Teacher, Speaker and Mentor with over 20 years of experience and extensive study in personal self-development, healing and as a medium has developed her natural way of working from the top teachers in the field. She has helped inspire and transform the lives of thousands of clients internationally, from many different walks of life and backgrounds through her 1-1 sessions, events and courses.Colby Rebel is a certified master spiritual teacher with LWISSD, #1 best-selling author, public speaker and radio host of the hit show #LivewithColbyRebel on UBNradio.com and the FBLive inspirational show #CoffeewithColby each Tuesday morning at 10:00am pst.
Colby teaches and works as a professional psychic medium in Los Angeles, CA where she owns and operates the Colby Rebel Spirit Center.Together Rometris and Colby will connect to your loved ones on the other side, bringing through incredible detail, evidence and healing messages. Colby is renowned for her ability to blend with the Spirit so closely she will take on their posture, habits and gestures. This dynamic duo is honored and excited to demonstrate that life is eternal and love never dies on Sunday, June 7th, 2020 in Arendal.Everyone attending will receive healing from their loved ones, but Rometris and Colby can only provide personal messages to as many guests as time allows and a message is not guaranteed. The healing messages that come through will touch many hearts and benefit everyone.
All are welcome to the event and be sure to invite a friend. PRIVATE SESSION WITH COLBY may also be bookedThis is an event you won't want to miss. Tickets are on Sale NowTIME:16.00-18.00COST:300 NOKPrepaid to account no.1206.86.66846. **PRE-BOOK a 1-1 SESSION with Colby Rebel for June 8, 2020:Contact us via Messenger. Limited spots available.LOCATION:Near Arendal(location given after registration)SHARE and LIKE ♥WELCOME.
Arendal
Provinsen Aust-Agder