| | |
| --- | --- |
| By | Bergen |
| Provinsen | Hordaland (12) |
| Dato | 11/06/2020 |
| Timer | 08:30 |
| Kategori | Events |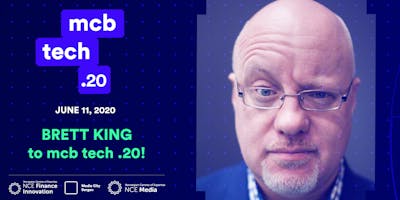 Save the date June 11 for mcb tech .20 The King of the Disruptors to mcb tech 2020 Brett King is a world-renowned expert on the future of global banking. King advised the Obama administration on Fintech policy and advises regulators and bank CEOs around the world on financial technology transformation. King hosts the world's first and #1 ranked radio show on FinTech called "Breaking Banks" (140 countries, 3.6 million listeners). He is the CEO and Founder of Moven, a successful mobile start-up, which has raised over US$24 million to date, with the world's first mobile, downloadable bank account, available in the United States, Canada, UK, Indonesia, and New Zealand. Named "King of the Disruptors" by Banking Exchange magazine, King was voted American Banker's Innovator of the Year in 2012 and voted the world's #1 Financial Services Influencer by The Financial Brand.
He was nominated by Bank Innovation as one of the top 10 coolest brands in banking. His fifth book Augmented: Life in the Smart Lane is an international bestseller and has remained in the top-10 on Amazon for over a year. His latest book is Bank 4.0. Stay tuned for speaker announcements in the coming weeks. A part of Future Week At the same time this conference is part of something much bigger. The mcb tech .20 conference is the cornerstone of the MCB Future Week, which will consist of a series of research seminars, workshops, events, presentations, talks, and more – all taking place inside the Media City Bergen building, and all focused on topics that challenge our common future as it is driven and shaped by technology. Prefer to pay by invoice? Click "Tickets" on this page, select your ticket and press checkout.
At the bottom of the registration page you can choose "show other payment options" and click "Send invoice". You will have to provide your company's MVA/VAT number.  Mcb tech .20 is a joint initiative between the Norwegian Media Cluster (NCE Media) and The Norwegian Fintech Cluster (NCE Finance Innovation).  If you are interested in more events like this, you can sign up to our newsletters here: NCE Finance Innovation: http://bit.ly/financeinnovationnewsletter Media City Bergen / NCE Media: http://bit.ly/NCEmedianyhetsbrev Privacy Policy
Bergen
Provinsen Hordaland