Mindfulness In Leadership & Biomimicry Workshop
| | |
| --- | --- |
| By | Oslo |
| Provinsen | Oslo (03) |
| Dato | 05/04/2019 |
| Timer | 10:00 |
| Kategori | Events |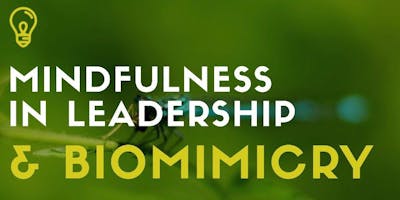 Mindfulness In Leadership & Biomimicry - Nature inspired leadership and organisations. Watch video Have you ever wondered how you can improve the efficiency of your organisation and the motivation of your employees? Meet Biomimicry. Put simply, biomimicry can be described as "Sustainable innovation inspired by nature". Superorganisms like bees or ant colonies have super efficient ways of organising themselves. Unleash the efficiency of your organization and boost the motivation of your employees by implementing strategies inspired by nature's best practices. What is Biomimicry? Biomimicry is the science that extracts nature's design principles and uses them to solve challenges in pretty much any area you can think of. We call it the "conscious emulation of nature's genius".
We're not talking copying nature, but really extracting principles and use them. In this 4-hour workshop, Michel Wolfstirn takes you through the basics of Biomimicry and how you can use those for your organisation's efficiency and the way your people and teams work. Are you a mindful leader? Our workshops are about cultivating more diversity and mindfulness in business as a solution to increase focus, productivity, clarity, presence, creativity, innovation, empathy, inspiration and collaboration at work. Our workshops are suitable for mindful leaders who want to practice and learn how to lead with both their heart and head, who want to inspire greatness in their teams and do purposeful work. Silent workshopsAll our workshops are conducted as silent workshops: No PowerPoint presentations No mobile phones   No distractions  We invite you to just be present.
Guided workshopsWe take care in finding and selecting our workshop leaders. Our workshops are guided by diverse leaders who take a mindful approach to business, who are highly empathetic, who exhibit emotional intelligence (EI), who are ridiculously passionate about what they do, and think disruptively. What to expect? Interaction and insight Silent reflection Active listening and focused intentions Tangible takeaways. *45-minute lunch is includedSuitable for corporates and startups: HR managers, business leaders, departments, teams and founders. Michel Wolfstirn                                                                                                                     Watch video When Michel Wolfstirn found Biomimicry he knew this was what he wanted to share.
He founded Biomimicry Norway after receiving his training through the international Biomimicry Institute. Before founding Biomimicry Norway, Michel worked as a Mechanical Engineer in the oil industry for over 8 years. Some of his other specialties include hands on and cross disciplinary work, environmental qualification, field support and testing, concept development, prototyping and sustaining.