Natural Language Processing Bootcamp | All-Inclusive
| | |
| --- | --- |
| By | Oslo |
| Provinsen | Oslo (03) |
| Fra | 30/09/2019 |
| Den | 01/10/2019 |
| Timer | 08:00 |
| Kategori | Events |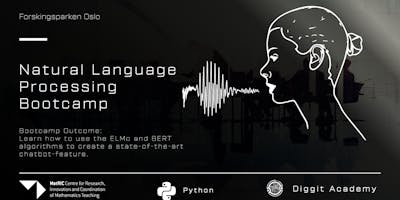 The Sci-Code NLP Bootcamp; Learn the theory behind ELMo & BERT, the cutting edge NLP algorithms for text-analysis and generation, and how to utilize these to create a state of the art chatbot that fluently interacts with people in a natural way. We will show you how to enhance your chatbot to consider sentiment, and adjust its way of interacting accordingly. Stack/Requirements : - Python, (some experience required) will be explained/taught: - NLTK - AllenNLP - spaCy Description: Welcome to the Sci-Code NLP Bootcamp. We will here be covering everything you need to analyse, understand, and use Natural Language Processing in your day-to-day. The theory behind NLP has been established over decades, covering fields ranging from linguistics to programming techniques. In later years it has now evolved using neural networks.
The latest breakthroughs have been in the ELMo and BERT algorithms, being featured on many blogs and news-sites with incredible results. You will learn the Theory behind how and why NLP works, what the major improvements are in later times, and how to set up your own ELMo or BERT, as well as how to integrate these into a chatbot-feature. You'll also learn sentiment analysis, which is the art and science of recognizing the emotional response of a person by reading what they write. This goes beyond just having lists of "bad" and "good" words, and we'll teach you how to implement this competently. In this Project-oriented Bootcamp you will: - Learn the theory of NLP - Learn a few different models of NLP, - Use statistical parsings to understand text. - Correctly identify the different parts of a sentence.
- Use modern Python Libraries to automate the theoretical portions. - A quick overview of Encoders and LSTMs, and why we would want to use them. This will all be supporting a central Project; - Implement a Chatbot feature using BERT/ELMo, that takes into account the emotional responses of the person it is chatting with to adjust its patterns and be able to implement this chatbot as a feature to your current web-servers, (or future employers' websites). At the end of this Bootcamp you'll have made your own chatbot that is at the leading edge of what is available today, and have the necessary competence and theory to explain how it works, as well as start improving and tailoring it to suit the domain you're most interested in. Happy Coding. Content: - Grammars (Theory) - Statistical Parsing.
- Vector Space Models, (Possibly using Word2Vec) - Bag of Words - classification & clustering. - Probabilistic language models & Markov Chains - Hidden Markov Models. - Beginners guide to RegEx. - N-grams (apple-pie). - Viterbi Algorithm (statistical, using Markov Chains) - text-search - Basics of Sentiment Analysis. - NLP using Neural Networks (possibly) Advanced topics and Goals: - ELMo & BERT, using AllenNLP. - Sentiment-sensitive ChatBot. Overview: Starting off with elementary theory, Grammar theory, Parsing models, and what is needed to "make sense" of what is written. Expecting to cover this fairly rapidly, but should be easy enough to follow with examples. Some words/time on verification and testing algorithms against Gold Standard. Quick cover of variations in parsing-methods, most of these can be done quick using libraries, so mostly needed to form an overview.
(Dependency parsing vs parse-tree, POS-tagging using a trained grammar, etc. ) Moving then on to cover Vector Space Models. Easy to get caught up with this, as it produces some very tangible results. ([king] - [man] + [woman] = [queen], type of stuff) Then some pitfalls about the actualities (shatter that dream of using this ubiquously, as it turns out: |[woman] - [man]| (approx)= 0 Moving into probabilistic models using Markov Chains (P(next|current) = P ('n-gram'-up to current) ), and the Trellis-diagram & Viterbi Algorithm. This might recurr in the Chatbot, as a model for generating text. Moving then on into using tools allowed us we explore the state-of-the art ELMo and BERT. If there is then time after this, we can cover using the models and the statistical output from parsing with an LSTM-encoder to generate text.
(This is a slightly different take from using "pure" neural networks to do the full analysis, but may yield some good results.) At the end, we will fit this together to form a cutting-edge chatbot that you can install on your home-computer or website. The Bootcamp Program Our program utilizes the only tech learning platform that gives you automatic feedback on your precise mistake with the use of machine learning.  Our instructors have background in education, machine learning, but also educational technology research. Meaning we combine the best of all fields to provide you a learning experience far superior to anything in the market.  Our program is intensive, thorough, intuitive, visual, and project based. Avoid spending years in academy to master the same concepts when you can learn them in an accelerated program instead.  Your time is precious to us. When we say we will provide you with the knowledge required for the industry, we ensure that this is true our you will get your money back 100% guaranteed. Certificate is awarded to individuals by Sci-Code sponsored by the Research Council of Norway, as well as the Centre for Research and Innovation and Coordination of Mathematics Teaching (matric.no). Testimonials "I think the Diggit Academy system for learning  is very good. It's a new way to learn new skills, and I liked it. The system allows the user to get automatic feedback on their precise mistake. I am very satisfied that I can learn new technology so quickly." ~ Jon Magnus Stavik Vold ( ICT Consultant at Ciber Norge AS) Watch a video of what our previous round of participants say about the bootcamp: https://www.youtube.com/watch?v=7JxUnjVbm2M Questions? Please contact us at 
[email protected]