| | |
| --- | --- |
| By | Larvik |
| Provinsen | Vestfold (07) |
| Dato | 12/06/2019 |
| Timer | 09:00 |
| Kategori | Events |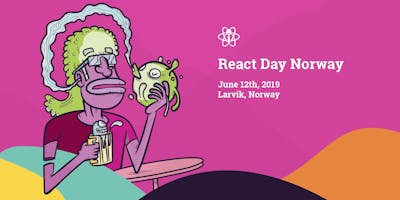 React Day Norway is a brand-new React community event to push knowledge and networking, taking place at a top venue in the south of beautiful Norway.  Grab the chance and get a ticket for this outstanding event in the Nordics where visionary speakers and an inspired crowd of passionate developers will gather for a day at an extraordinary location - at the modern beachfront hotel FARRIS BAD in LARVIK, just an hour and a half from Oslo and 15 minutes from Oslo Torp Airport. With a full-day conference ticket you get access not only to the conference with talks from international renowned speakers, but also to food and beverages throughout the day as well as the evening program and afterparty including a BBQ dinner on the beachfront terrace. Check out more details about React Day Norway on our official website: https://reactnorway.com ------ If you're looking for a great place to spend the night, we will provide you with an offer for a room at the stunning beachfront Hotel and Spa FARRIS BAD (https://farrisbad.no).
If you buy a ticket for the conference, we will send you an email with the details for accommodation there at a reduced price.