| | |
| --- | --- |
| By | Trondheim |
| Provinsen | Sør-Trøndelag (16) |
| Dato | 25/03/2020 |
| Timer | 09:00 |
| Kategori | Events |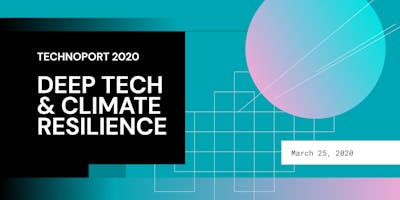 Deep Tech & Climate Resilience Get your tickets now and save 40%. If you are a startup, APPLY for tickets HERE. Join us in future-proofing tech development Every year the Technoport Conference examines one important factor that will shape the future of technological innovation. In our quest to make us better at bringing the right solutions from lab to market we will gather the right people, ask the hard questions and bring you new insights and tools. 2020: Deep Tech & Climate Resilience For 2020 the theme was obvious - even if we succeed in rapidly cutting emissions, our climate will be changing for decades to come. In just a generation the environment we live, work and do business in will significantly change, and in many sectors the huge consequences are too poorly mapped out.   Science based technological innovation, or "deep tech", is one of the most important tools we have to meet the great challenges ahead.
But, R&D takes time and that is something we are running out of. So, it IS time to ask: Are we really ready for what's coming? Are we developing and investing in the right tech? Is your business climate resilient? Is our future? Simply put: Climate risk is one of the biggest unknowns right now, and we cannot afford to leave it like that.
Trondheim
Provinsen Sør-Trøndelag