Advanced Agile Teams - Certified Scrum & Agile Master Advanced™
| | |
| --- | --- |
| Stad | Lidingö |
| Province | Stockholms län (110) |
| Från | 09/12/2019 |
| Den | 10/12/2019 |
| Timmar | 09:00 |
| Kategori | Events |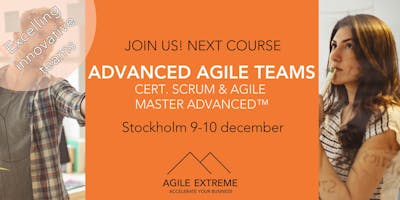 TEAM SOM EXCELLERAR OCH INNOVERAR – HUR GÖR MAN DÅ?Vill du ta dina team till nästa nivå av mer innovation och självständigt driv? Vi täcker det somär viktigast för att komma till nästa nivå. Vilka är de viktigaste beståndsdelarna för högprestation och kul på jobbet? Vad och hur gör teamet, Scrum Mastern, chefer och ledare runtomkring? Kursen är baserad på inspiration och innehåll från tre av europas främsta agile- och innovationstankeledare: Arie Van Bennekum (medförfattare till Agile Manifesto), Andy Cars (innovationsguru från Lean Ventures) och Per-Magnus Skoogh (agil pionjär och författare av boken Agile for Managers).    COURSE CONTENT 1 DEFINING AN ADVANCED TEAM • Real business benefits from agile ways of working• Find a consistent pace of improvement & innovation• Work in cohesion with other teams• Happy customers, happy clients• Measured success – proven success 2 MEASURED SUCCESS• Value tables• Innovation metrics• Defining and measuring experiments 3 TEAM DESIGN & FOUNDATIONS FORSUCCESS• Re-design your team and its network, build "the snowman" 4 WORKING WITH "THE BUSINESS",CUSTOMERS & STAKEHOLDERS• The product owner network• Prototyping, mock-ups• CRM (customer relations management) for a team• Avoid delay in your interfaces with customers and stakeholders• How to ensure early acceptance and not turn the demo into an acceptance meeting.
5 GROWING GREAT BUSINESS IDEAS• Business modelling for teams• Testing your ideas without a single row of code or piece of hardware• Real business knowledge• Not a product owner in between, bring the real business in.• The heart-beat of a team – how to manage the sprint and ensure fast feedback. 6 THE BUSINESS SAVVY PRODUCT OWNER• Your friend the business analyst• Understanding business models 7 INNOVATION PRACTICES• One time through the innovation start-up loop• The innovation loop – one time through the innovation (lean start-up) loop• Understand your business model• Formulate a "guess" – a hypothesis• Define the experiment• Get hold of the results• Incremental innovation, as well as new innovation 8 WE WILL ALSO DISCUSS• Story splitting• Merging, branching, GIT• Delivery pipeline for teams• Value stream mapping   The following individuals will benefit from this course  Experienced Scrum Masters and entire teams that want more in-depth, practical understanding of what a high-performing agile team does Already certified Scrum Masters that want to go to the next level with a broader and more practical take on high-performing agile teams Program Managers, Project Managers and SAFe® Release Train Engineers who want to understand how to support Scrum Masters in taking their teams to the next level Line/people managers that want an in-depth understanding of how their teams should work to become faster and more successful   What Attendees Get The class registration includes: Detailed course documentation including exercises and suggested solutions, that is also a manual for you when you return to your workplace.
Exam Prep Kit, to help you learn faster and pass the test with higher scores Scrum User Guide  Certification – after passing the test Prerequisites Due to the way the course is taught, it fits both new and very experienced Scrum Masters and team leaders. People with different backgrounds pick up different depths and we get great reviews from both. You need, however, to have a firm understanding of basic scrum to get the most out of this course.    Certification This is the advanced course, the second step of two, where you will be offered the two-in-one certification of Certified Scrum & Agile Master™, after passing the Agile Consortium's Agile Foundation test with master scores. An Exam Prep Kit will be provided to help you pass the test with master scores.
  The course documentation is in English, and the course can be held in several languages depending on the trainer, including Swedish and English.
Lidingö
Province Stockholms län