European Roundtable 2020 "Radical Hospitality"
| | |
| --- | --- |
| Stad | Malmö |
| Province | Skåne län (224) |
| Från | 03/02/2020 |
| Den | 07/02/2020 |
| Timmar | 18:00 |
| Kategori | Events |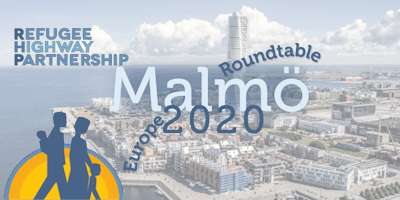 Come to the 18th Annual European Refugee Highway Partnership Roundtable in Malmö. This year the roundtable theme will be "Radical Hospitality" With almost 250,000 registered refugees Sweden is home to a higher proportion of people displaced by war, persecution, and humanitarian crises than any other European country. The port city of Malmö is Sweden's gateway. It is a city that faces the challenges of diverse cultures living together, and it is therefore fitting that this is the location for us to join together to delve into the challenge of radical hospitality discovering what it really means to welcome the outsider.  What to expect? The RHP roundtable is a wonderful opportuniuty for followers of Jesus across Europe engaged in supporting and reaching out to refugees and asylum seekers to come together.
During the roundtable attendees will be able to: Take part in various workshops with practical application to their ministry  Hear encouraging stories and inspirational challenges from around the continent  Meet and connect with other attendees Discover and share useful resources in the resource area Explore the wonderful and diverse city of Malmö, and discover local initiatives to welcome and support refugees and migrants. Main Speaker Our plenary speaker this year is Niels Nymann Eriksen. Niels is pastor responsible for mission and cultural work at the ApostelKirken in the Vesterbro district of Copenhagen. The church has an international congregation and ministers to a number of immigrants within the locality. Niels has a passion for demonstrating true hospitality founded in the biblical principal of loving the stranger.
 He combines a depth of real life experience with theological insight. He has authored the book "Hospitality" (Gaest Fri Hed in Danish) in which he explores the mindset we hold when we  encounter those who are different, and the potential depth and meaning that can be found when we meet people with an attitude of curiosity, expectancy and kindness. Roundtable Registration This year our costs are working a little differently as the hotel and conference venue are separate. This being the case, the registration costs we are asking for here are higher as they include paying for the conference venue and two meals each day. This means the hotel costs will be less and will just include bed and breakfast.  Registration and Conference Costs Early Bird Single Registration (before 30.
Nov) – 239 euros Early Bird Couple Registration – 419 euros Regular Single Registration – 259 euros Regular Couple Registration – 459 euros Day Visitor - 69 Euros per day (includes lunch and dinner) Hotel Registration and cost  The Good Morning+ Hotel is located next to the conference centre. We have agreed a special rate with them for people taking part in the conference.  Single Room –  650 SEK / night (60 Euros) Double Room – 750 SEK / night (70 Euros) Triple Room –   950 SEK / night (90 Euros) If you are planning to share a room please be advised to coordinate your room booking with your spouse, friends or colleagues in order to save costs. If you are travelling to the conference alone and would like to share a room please email Emily at 
[email protected]
 to let her know so she can coordinate with the hotel.  All rooms need to be reserved directly with Good Morning+ Hotel.
Please make your reservstion with the hotel as soon as possible to help with the preparations for the conference. The hotel cost is separate from the RHP fee and can only be paid directly to the hotel. The rates include bed and breakfast. Click the link below to access the hotel website for booking.  www.gmorninghotels.se Remember to enter our event code RHP2020 on the booking page above SEARCH ROOMS and PRICES when submitting your booking to receive our special rate.  Traveling to Malmö Malmö is located in South West Sweden just across the Öresund Bridge from Denmark. The city is easily accessible from both Malmö and Copenhagen airports. The Goodmorning + hotel and Pingstförsamling Church Conference centre are located in the Lorensborg district of Malmö.
From Copenhagen, a short train journey across the Öresund bridge to Malmö Hyllie Station followed by a 10 minute ride on the number 6 bus to the Malmö Södertorp bus stop will leave you within 400 metres of the hotel.  From Malmö airport take the Airport bus towards Malmö Central Station disembarking at Malmö Södervärn. Here change to the number 34 bus towards Malmö Sibarb disembarking after 4 stops at Malmö Isstadion. The Pingstförsamling Church Conference centre is right across the street from the bus stop.  For more Information View the RHP Roundtable 2020 Promotional Video  https://vimeo.com/319939317 For any questions email: 
[email protected]