| | |
| --- | --- |
| Stad | Malmö |
| Province | Skåne län (224) |
| Datum | 30/10/2019 |
| Timmar | 18:00 |
| Kategori | Events |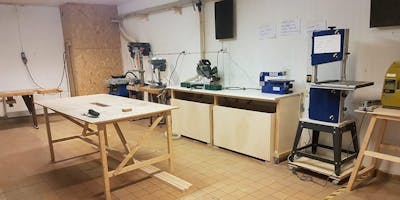 Welcome to an introduction of the Wood Workshop at Malmö Makerspace. This is for you who would like to learn some basics of all the tools we have, and for you that already know how to operate tools but never used this specific space.  We will walk you through safety and orientation, dos and don'ts and some basic guidelines on how to use our workshop, and of course all tools: - Disk sander- Band saw- Scroll saw- Chop saw- Drill press- Table saw- Nail gun- Staple gun- CompressorThe intro is free for all Malmö Makerspace members. If you are notyet a member you can also sign up directly here and you receive a 1-months Malmö Maker Space membership online via eventbrite. Once you are a member you can keep on using the Wood Workshop during opening hours (for 1 month). Please register yourself via the Eventbrite Event due to limited space available.
In case the event is already sold out, please see also our upcoming events. You´ll find the entrance to Malmö Makerspace at the back side of STPLN. Contact info: Kevin Keul 
[email protected]
                       Marcus
[email protected]
For existing MalmoMakerSpace members. Please also purchase the eventbrite ticket and we your existing membership gets extended accordingly. Location: Malmö Maker Space @STPLN Stappelbäddsgatan 3 21175 Malmö