Jobs in Sweden for internationals - Your CV, job search and interviews in Finance, Gaming, Healthcare, Consulting, PR, Events, Admin
| | |
| --- | --- |
| Stad | Stockholm |
| Province | Stockholms län (110) |
| Datum | 17/10/2019 |
| Timmar | 16:00 |
| Kategori | Events |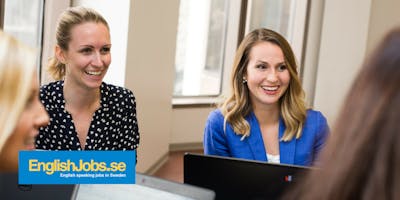 CV, job search and interviews in Finance, Gaming, Healthcare, Consulting, PR, Events, Admin. Just 30 minutes could save you 30 days in your job search. Welcome to our Ask a recruiter series of Workshops. Our workshop is specially designed to give international job seekers in Sweden an insight into what is required by employers and how to improve their chances of success. This is your chance to work directly with a recruiter, get real feedback on your CV and job search from an employers perspective and ask questions such as: How does an employer view my CV? What impression does my CV give? All workshops are held as 1 on 1 sessions via online web meetings over Skype. Typical duration is 1 hour. SKYPE WORKSHOP 1: Get help from a recruiter - Your Swedish CV Does your CV pass the 30 second test?The average time reading a CV is just 6.25 seconds Your CV is your most important tool and first impressions matter to Swedish employers.
Get past the screening stage with the perfect CV and get more responses. Join this workshop to get expert help from a recruiter in creating your CV customized for Swedish employers. What you will learn: What do Swedish employers look for in your CV and Cover Letter?Have you included the right information?Get an insight into the hiring processHow to present your professional experience?How to profile yourself for different types of jobs.Learn about the Do's and Dont's of job application writingHow to write a well structured and professional CV presentation Get help from a recruiter to: 1. Plan and customise your CVformat it for Swedish employerscustomise it for industries and job titles 2. Present your experiencedemonstrate your credibilityquantify your performance and experincequantify your market experienceuse client references and brands 3.
Profile your skillshighlight transferable skillsstrengthen areas of weakness highlight qualifications demonstrate soft skills 4. Structure your CVstructure information correctlydraw attention to key areasoptimise it for keyword, databaese and webformsuse LinkedIn to support your CVcreate a supporting online portfoliotune up your social media profileuse tags 5. Style your CVreduce clutter and make it user friendlymake it aesthetically appealingmaximise readability SKYPE WORKSHOP 2: Get help from a recruiter - Your job search, work visa, interviews "80% of job searched are never advertised"- Forbes. Searching for jobs is a skill. Invest in learning it and save time by connecting with the right employers.Identify companies in Sweden fitting your experience and getting applications in front of the right people.
Join this workshop to get help in your job search, insights,  speaking to decision makers and getting interview commitments. Get help on questions regarding work visas, permits and applications. What you will learn Where to find jobs matching your background?Which companies fit your profile?How to find opportunities at companies such as Spotify, Truecaller, Tictail that are rapidly expanding into international markets. Get help from a recruiter to: 1. Send applications at the right timehow the recruitment season works how the recruitment process workshow the decision process works 2. Find matching employerswhich employers are the best match your experience?which industries you should focus on?how to research jobs and employers? 3. Present your skillshow to present your transferable skills?how to present your competencies 4.
Contact employerswhich networks to join?how to establish contact?how to send your CV and follow up?how to get decisions and interview commitments? 5. Prepare for interview and salary negotiationswhich interview questions to expect?how to practice pitch for an interview?how to negotiate your salary and benefits? 6. Getting your work visawhat you need to know before applying?what is required from you and employers?how to apply, processes and procedures?what you need to know before moving?